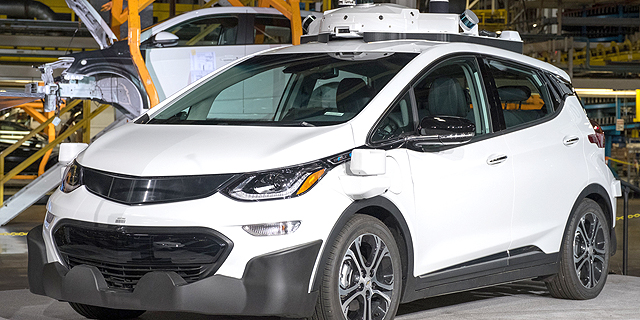 Update: Israel to Allow More Autonomous Car Testing on Public Roads
A General Motors executive said on Monday that if Israel fails to relax autonomous car testing regulations, it could ward off investors
Yoav Stoler
|
18:08 03.10.2017
Israel intends to allow General Motors to test its autonomous cars on public roads in Israel, senior Israeli Ministry of Transportation executive Avner Flor said in an interview with Calcalist Monday. So far, the ministry has approved every request it received regarding autonomous car testing, Mr. Flor added. To date, Jerusalem-based automotive technologies company Mobileye is the only company allowed to test semi-autonomous cars on public roads in Israel.
Yesterday, the Israeli Ministry of Transportation held a ceremonial inauguration of a one-mile (1.5 km) three-lane track dedicated to autonomous vehicle trials Monday, the first of its kind in Israel. The road was constructed on a segment of the Ayalon Highway, a major intercity freeway in the Tel Aviv metropolitan area.
During the inauguration, Gil Golan, director of General Motors' technology center in Israel, warned that the company's ongoing autonomous vehicle operations in Israel are contingent on less stringent regulations.
Mobileye, General Motors and Tel Aviv-based Nexar Ltd. already started trials at the road segment. While Mobileye already tests a small fleet of autonomous cars on public roads in Israel, General Motors is currently allowed to test its autonomous cars on dedicated tracks.
"If we don't receive permission to test vehicles on public roads afterward the relevant investments will pass to countries like Singapore, who encourage autonomous vehicle use and don't postpone government decisions," Mr. Golan said at the ceremony.
Mr. Golan added that the Israeli Ministry of transport must create a single governmental entity that will address all the necessary regulations and permissions. "The situation is completely different in other countries," he said, addressing Israeli Minister of Transportation Yisrael Katz.
The Israeli government plans to open a dedicated for autonomous vehicles by 2021 near Netanya, a coastal city 17 miles (28 km) north of Tel-Aviv. The center is planned to include roadways and infrastructure that would enable companies to test autonomous vehicles.