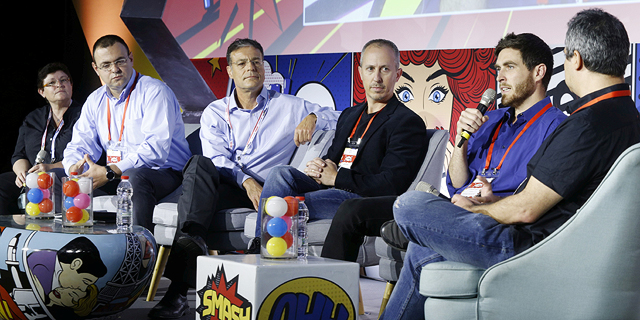 INSPIRE
Israeli Tech Leaders Convene at Tel Aviv Event
Calcalist is hosting its seventh digital and mobile conference in Tel Aviv
Omer Kabir
|
12:26 30.10.2017
Calcalist is hosting its seventh digital and mobile conference in Tel Aviv today, in collaboration with Bank Hapoalim, Israel's largest bank, and with the Israel Export Institute, an Israeli government agency that promotes commercial ties between Israeli companies and international entities.
Under the banner "Inspire Digital and Mobile," the event features expert speakers on topics including autonomous vehicles, sports technologies, innovation in retail, and mobile health.
For further details visit the conference website (Hebrew only) here.
Bank Hapoalim CEO Arik Pinto and Israel Export Institute Chairman Ramzi Gabbay are the event's keynote speakers.
The winner of Calcalist's promising startup contest held once a year would be announced during the event.
Eleven startups made the final round. Among them are Jerusalem-based Keepers, developers of a mobile app that, when installed on children's smartphones, helps protect them from harmful online content; Tailor Brands Ltd., machine learning-based logo and brand design app with more than 2 million users; and Mugo Inc., developers of a social music sharing app Mugo.
Aharon Aharon, CEO of the Israel Innovation Authority, Israel's influential governmental innovation investment arm, spoke about the future of Israeli tech at the event. "In the past, the Israeli tech industries focused on components, such as chips. In the current wave of innovation coming from Israel, companies create complex platforms that are used for content creation," he said. A former Apple executive, Mr. Aharon was appointed to his current role in 2016. He established Apple's research and development center in Israel and served as the first CEO of the company's Israeli subsidiary, recruiting hundreds of new employees.
Karin Eibschitz-Segal, another presenter, heads Intel's research and development in Israel, supervising 7,000 local employees across four locations. The next generations of Intel's processors are being developed in Israel. In August, Intel introduced a new processor line which was developed in part in Israel, boasting a 40% increase in performance over the previous chip generation. Ms. Eibschitz-Segal joined Intel in 2001.
Itamar Benedy, CEO of Berlin-headquartered mobile ad tech company Glispa Global Group, will speak about the challenges of the ad tech industry. Glispa was acquired by web marketing company Market Tech Holdings owned by Israeli-born businessman Teddy Sagi.
A digital health panel to take place at the event will feature the following speakers:
Ram Fish, founder, and CEO of Menlo Park, California-based 19Labs, a company that develops a digital first aid kit called Gale. Mr. Fish previously led the iPod group at Apple and was in charge of Samsung's health tracking gadget Simband.
Eran Eden, CEO MeMed Ltd., a company developing an automated blood testing device that can distinguish between bacterial and viral infections.
Zeev Zalevsky, professor of electro-optics at the Faculty of Engineering at Bar-Ilan University and chief technology officer of contactless biometric scanning company ContinUse Biometrics Ltd.
Avner Halperin, CEO of non-invasive patient-monitoring systems company EarlySense Ltd.

Speakers at an IoT and Smart Cities panel will include:
Yinnon Dolev, director of General Electric Digital's startup accelerator.
Lotan Levkowitz, Partner at Grove Ventures, artificial intelligence, IoT and cloud-focused venture capital firm established by USB stick inventor Dov Moran.
Noga Kap, managing partner of i3 Equity Partners, a collaborative investment firm established by the venture arms of tech industry leaders such as Microsoft and General Electric to invest in Israeli IoT startups.
Lior Aviram, Head of Hi-Tech and Venture Capital practice at Israel-based law firm Shibolet & Co.
Haim Pinto, Managing Director - Head of Fintech and Business Development at Bank Hapoalim.

A New Sports Technologies panel will include the following speakers:
Ram Shalev, CEO of PhysiMax Technologies Ltd., a real-time online video analysis service.
Danny Dankner, CEO of Applied Cognitive Engineering Inc. (ACE), developer of training software Intelligym.
Chen Shachar, Founder, and CEO of PlaySight Interactive Ltd., an immersive sports video and analytics technology company.
Jonathan Levene, director of strategic business development at Intel Sports Group.

Speakers at a panel about autonomous vehicles will include the following:
Rani Wellingstein, CEO of low-cost LiDAR startup Oryx Vision.
Avner Cohen, CEO and founder Otonomo Technologies Ltd., a startup that enables service providers to tap into car data.

A panel about new content and advertising models will feature the following speakers:
Or Offer, CEO, and founder of digital market intelligence company Similarweb Ltd.
Pini Yakuel, CEO, and co-founder of Optimove, which offers automation of personalized customer retention marketing.
Ben Enosh, co-founder of audio search engine AudioBurst.

Other participants scheduled to participate in the event include the following:
Joseph (Yossi) Keshet., a professor at Bar Ilan University's Department of Computer Science.
Ronen Yochpaz, executive vice president of technology infrastructure at Bank Hapoalim.
Eran Wolf, founder, and CEO of online insurer Direct Finance
Ronit Peter Ben-David, vice president of technologies and business development at Direct Finance.
Efi Dahan, general manager of PayPal's operations in the Middle East and Africa.
Isaac Benbenisti, CEO at Partner Communications LLC.
Natalie Refuah, a partner at Viola Growth.
Colonel Avi Duek, commander of Israeli army's technology unit Maoff.
Yossi Moldawsky, co-founder and chairman at Plus Ventures.
Omri Yoffe, CEO, and co-founder of artificial intelligence wearable tech company LifeBEAM Inc.