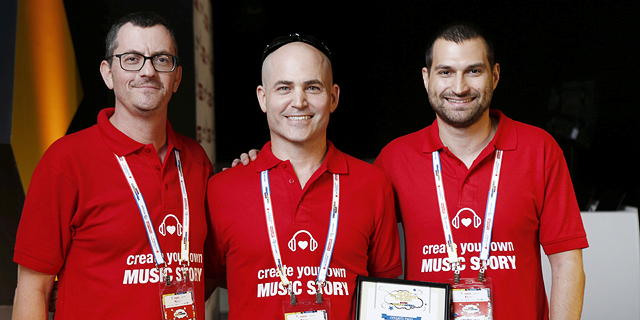 INSPIRE
Shared Music Startup Mugo Wants to Become the 'Instagram of Music'
Shared Music Startup Mugo Wants to Become the 'Instagram of Music'
Raphael Kahan
|
15:20 31.10.2017
Israeli-based startup Mugo Inc., developer of social music player Mugo, has won Calcalist's promising startup award, announced Monday at the Calcalist seventh digital and mobile conference in Tel Aviv.
Mugo developed and patented the Live Share technology, which allows multiple users to sync to the same segment of a song or a musical piece from different music providers. Additionally, Mugo users can create and share image and video 'stories,' follow others on the platform, share playlists and create playlists based on mood.
"Our goal is to become the Instagram of music," said Mugo CEO Ori Segal, adding that the company is on the verge of breaking into the U.S. and Europe. Founded in 2016, the Mugo has so far raised over $1.5 million to date and is currently in the midst of a funding round. The Mugo app launched in August and is available on both iOS and Android app stores.