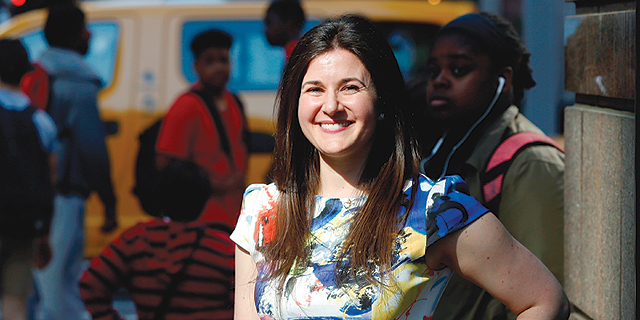 Silicon Valley Hooked on Bloated Male Forecasts, Sound Ventures COO Says
In May, the venture firm co-founded by Ashton Kutcher appointed Effie Epstein as its newest managing partner
Hagar Ravet
|
16:11 03.11.2017
Sound Ventures' hunt for a new chief operating officer lasted a year long. The founding partners of the Los Angeles-based venture capital firm, Hollywood star Ashton Kutcher and Israeli-born producer Guy Oseary interviewed dozens of candidates. Their successful careers, Mr. Kutcher explained, required someone that would have their hands on the firm's wheel at all times, according to a March report by TechCrunch. Mr. Kutcher described their person of choice as someone he would like to work for, according to the report.
In an interview with Calcalist held in May and now published for the first time, Israeli-born Effie Epstein (34), the firm's newest partner, said she found in Mr. Kutcher, a smart businessman, with exceptional attention to entrepreneurs. Mr. Kutcher, she said, makes himself available to entrepreneurs 24-hours a day.
"Over the last 20 years, decision makers in Silicon Valley stayed the same. I think it brings about a natural bias—people invest in people who look like them, and that means Silicon Valley, as a whole, invests in white, male Stanford dropouts," she added.
Women entrepreneurs may want to factor that into the way they present their companies, she added.
"It can be the exact same business, and a woman would show me a $2 billion opportunity and the man would show me a $20-15 billion opportunity," Ms. Epstein said. Venture Capital firms, she added, are drawn to big numbers.
But many times, the bias is so deeply ingrained it has no relation to what the woman entrepreneur says or does, according to Ms. Epstein.
"I have met with incredible women with PhDs in machine learning and AI who have built incredible platforms, and they told me that they have been knocking on every VC door and no one believed they had built it."
Commenting on the small number of women in top positions in the venture capital world, Ms. Epstein said that climbing up the career ladder it feels " when it starts to get roomier."
"We need to remember our strength. women can be very disarming in a positive way," she added.
Adding women to investment positions, she said, is a crucial step going forward.
"If you don't have a woman in an investment position it's really hard to invest in female entrepreneurs. I spend 70% of my time on investing and 30% of my time on my role as a chief operating officer."