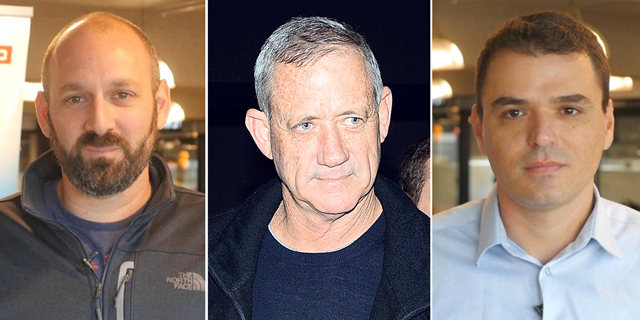 Ten Big Data Companies to Vie in Startup Competition
The finalists in Calcalist's "Mind the Data" startup competition include a company that help marketing executives better understand what their customers are thinking, and a company that helps doctors in emergency rooms give patients life-saving treatment
Yoav Stoler
|
19:11 26.11.2017
Ten finalists will compete tomorrow at Calcalist's Big Data startup competition as part of the newspaper's "Mind the Data" conference to be held Monday at Tel Aviv's David InterContinental hotel. The conference will feature speakers in the domains of tech, medicine, biology, the military, and also from the automotive and defense industries. The competition winner will get to meet with top Microsoft executives at the company's Seattle headquarters.
For daily updates, subscribe to our newsletter by clicking here .
Following is a list of the competition's finalists.
MathodiX Ltd.
Customized math learning
Founded: 2016 | Funding to date: $120,000
Mathodix's application is a mathematics teaching bot that improves student learning by offering a personalized course of study. The bot generates problems for students to work on and afterward guides them through the solutions. Powered by artificial intelligence, the bot analyzes student performance and tailors the questions to the appropriate level. Educators also benefit because the app can help identify which topics their students are struggling with. The technology powering Mathodix's application was developed with the help of researchers from Israel's Weizmann Institute of Science. Mathodix will soon host a nationwide math competition in partnership with the Ministry of Education. As part of the event, Methodix will assess the country's proficiency in math. Founders: Dan Gourary and Ofir Korkus
ORCA Dental AI
Software to automate dental diagnosis
Founded: 2015 | Funding to date: $250,000
The software being developed by ORCA Dental AI uses machine learning algorithms to diagnose tooth diseases. By allowing a computer to analyze a patient's medical images and medical history, and reach conclusions, ORCA Dental AI hopes to reduce the cost of dental care. ORCA Dental AI's software has been able to compress years of dental studies into mere moments with the help big data. The company hopes its tool can help dentist do their job better. Founders: Danny Abraham, Shlomi Avigdor, Shahar Omri, and Erez Lampert
NeuroApplied Ltd.
Reading the minds of consumers
Founded: 2016 | Funding to date: $650,000
NeuroApplied's technology helps brand managers and market research managers to quantify and analyze their customers' thoughts. The software measures how a brand is subconsciously perceived by customers by tracking their behavior and matches each customer with the most effective marketing campaign. Combining insights from cognitive science and mathematical psychology with machine learning systems, NeuroApplied is part of an emerging industry that is trying to under what goes on in the minds of consumers. Founders: Inna Schneiderman, Elhanan Meirovithz, and Lior Moyal
Nutrino Health Ltd.
Analyzing your eating habits
Founded: 2011 | Funding to date: $10 million
Nutrino Health's software tracks the eating habits and medical condition of its users, creating a personal nutritional profile with recommendations for maintaining good health.
The company operates a database with information on eating habits of millions of users, a potentially invaluable tool for the study of public health. Founders: Yaron Hadad and Jonathan Lipnik
Binah AI Ltd.
Big data for the corporates
Founded: 2016 | Funding to date: $1.5 million
Binah.ai offers consulting services to large corporate customers that need help analyzing large amounts of data. When Binah.ai is hired, it helps companies become more efficient using data generated by the companies to identify the wasteful use of resources.
Founders: Michael Markzon and David Maman
Fifth Dimension Holdings Ltd.
Identifying threats
Founded: 2014 | Funding to date: $50 million
The technology developed by Fifth Dimension helps governments and corporations anticipate threats with the help of big data.
Power by artificial intelligence, the system can recognize unusual objects and human behaviors, spotting suspicious criminal or terrorist activity. Fifth Dimension's chairman is Benny Gantz, a former chief of staff of the Israeli military, and the company is made up former intelligence and defense officers, as well as data scientists and computer engineers. Founders: Doron Cohen, Ariel Zamir, and Eli David.
MAWI Inc.
Data and medical marijuana
Founded: 2016 | Funding to date: Bootstrapped
Mawi offers software to medical marijuana patients who want to keep track of their health. The system follows the user constantly gathering information from their phones and other internet-connected devices, creating a profile with personalized recommendations for medical treatment with cannabis.
Mawi has partnered with Mount Sinai Hospital in New York to study thousands of patients suffering from pain.
Founders: Lior Wayne, Oren Fuerst, Raphael Meshulam, Sheryl Shuman and Oren Maymoni
Intensix Ltd.
Algorithms in the emergency room
Founded: 2015 | Funding to date: $8.3 million
Intensix wants to introduce its machine learning-powered software to emergency room care. The company hopes to become an aide to doctors by monitoring patients and providing better tracking of their condition. Founders: Avigdor Faians and Gal Salomon
MDClone Ltd.
Sharable medical records
Founded: 2015 | Funding to date: $5 million
MDClone is developing a system for managing medical records. The company hopes to make the enormous amount of medical records that exist more accessible and shareable while ensuring a high degree of information security and privacy. Founders: Ziv Ofek, Luz Erez, and Boaz Gur-Lavie
SQream Technologies Ltd.
Big Data for All
Founded: 2010 | Funding to date: $11 million
The database developed by SQream Technologies is designed to provide the power of big data analysis to companies of all sizes. The company offers customized data analysis software to companies trying to improve customers relations, cyber security or medical research. Founders: Ami Gal and Razi Shoshani