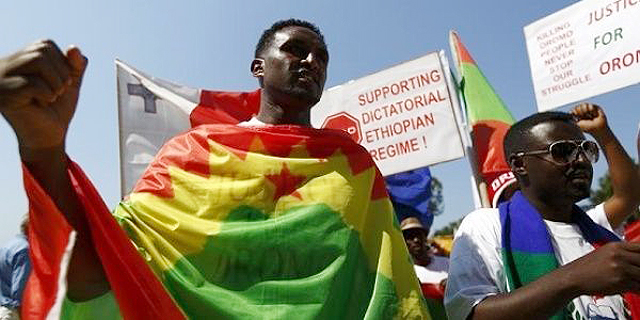 CTech's Weekly Israeli Tech News Roundup
Ethiopia used Israeli spyware to track dissidents. Iranian hackers used news website as a honeypot. Canadian crypto mining company finds way to Tel Aviv Stock Exchange
Ethiopia used Israeli spyware to track journalists, dissidents. Ethiopian government used Israeli-made spyware to spy on journalists and advocates of one of the country's ethnic minorities, according to a report published by University of Toronto researchers. The report details a year-long global cyber campaign against members of the Oromo people who have been in conflict with the Ethiopian central government. The researchers have compiled a list of other regimes, some regarded as totalitarian, that may also be clients of Israeli spyware maker Cyberbit. Read more
Iranian hackers used news website as a honeypot. An Iranian hacker group known as "Charming Kitten" set up a news outlet to court possible targets, says cybersecurity company ClearSky. The group is believed to be behind a phishing campaign targeting academic researchers, human rights activists, media outlets and political advisors focusing on Iran. Read more
The web needs a reboot, says researcher. In an interview with Calcalist, Harvard researcher Yochai Benkler explained why he thinks the fake news debate is a distraction, and why Facebook has to be me made to reveal its internal mechanisms. Read more
Softbank invests $450 million in real estate startup Compass. Four weeks after completing a $100 million funding round led by Fidelity Investments, Compass announced an investment by Softbank bringing its valuation to $2.2 billion.
Read more
Canadian crypto mining company finds a way to Tel Aviv Stock Exchange. Backbone Hosting Solutions will be merged with Israeli shelf company Natural Resource Holdings. The latter's stock price shot up over 4000% over two months following announcement leading to the deal. In an interview with Calcalist, the founders of the Canadian company said their operation requires electric power equivalent to that needed to power 35 basketball arenas around the clock.
Read more
Another hurdle for Uber in Israel. New rules announced Monday will legalize ridesharing in Israel for the first time, but only on a limited basis. The typical ridesharing service offered by Uber or Lyft in much of United States, Europe, and Asia will still be banned.The new rules appear to closely match the ridesharing model offered by Google subsidiary Waze and Israel-based Moovit. Read more.
Wix is skipping the Super Bowl. In a break from the past three years, Wix.com will not be advertising in the upcoming Super Bowl. Instead of placing a television spot during the big game in February, the website maker will double down on digital advertising.
Read more