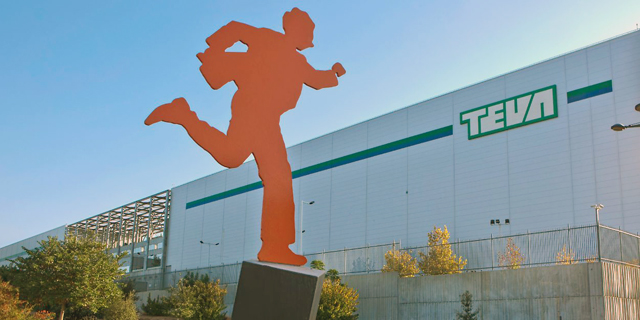 Teva's Stock Jumps Following Report on Planned Cuts
On Friday, Bloomberg reported that Teva might be slashing as many as 10,000 jobs, citing sources. Last month, Calcalist reported Teva is planning to cut over 4,000 jobs in the U.S. and Israel
Dror Reich and Lilach Baumer
|
09:45 10.12.2017
The stock of Teva Pharmaceutical Industries Ltd. is up 8.33% on the Tel Aviv Stock exchange on market open Sunday.
For daily updates, subscribe to our newsletter by clicking here.
Teva's stock jumped 7% on Nasdaq Friday market close, its highest value in the last two and a half months. The leap followed a Friday report by Bloomberg that stated Teva may be cutting as many as 10,000 jobs, citing sources. Teva currently employs around 56,000 people globally.
Teva declined to comment on the report.
For long years the biggest Israel-based firm in terms of market capitalization and a major domestic employer, Teva has been hailed as a symbol of Israel's ambition to grow international firms of considerable size. After the blows taken by the company's stock price since August, it now comes in second place in terms of market capitalization among companies listed on the Tel Aviv Stock Exchange, trailing its rival, generic drug manufacturer Mylan N.V. Mylan announced its plan to delist from the exchange in February. Teva's rising stock puts it again above pharmaceutical company Perrigo Company PLC, after the latter spent some time in second place due to Teva's woes.
In November, Calcalist reported Teva's intention to cut over 4,000 jobs in the U.S. and Israel as part of new CEO Kåre Schultz's rehabilitation plan for the troubled drug company. Since Calcalist first reported the planned layoffs Teva's stock has gone up by around 18.5%, adding around $2.5 billion to Teva's market capitalization. Teva is currently carrying almost $35 billion in debt following the $40.5 billion acquisition of Allergan Generics in 2016. Regulatory and retailer pressure in the generic drug market and the launch of generic rivals for Teva's market dominator drug Copaxone saw Teva's revenues fall and its financial outlook cut again and again in its last few quarterly reports. Two weeks ago, Teva announced a reorganization plan that will see it swing back into generic focus, with a new company structure that cancels the distinction between specialty and generic drugs. Mr. Schultz aims to stabilize the company's operating profit and cash flow through a focus on short-term revenue and cash generation. Several of the company's leading executives were also let go following the announced reconstruction, including chief scientific officer Michael Hayden. According to Bloomberg's report, the company aims to slash its expenses by $1.5 billion to $2 billion over the next two years, with almost half of the cost-cutting made in research and development. Bloomberg's sources also said that Teva does not intend to raise funding through an equity offering in the near term.