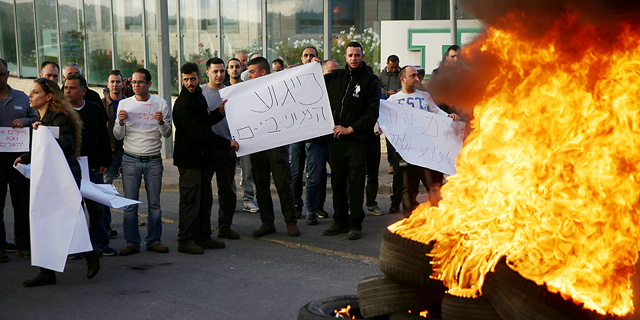 CTech's Weekly Israeli Tech News Roundup
How the Teva drama unfolded. Israeli judge orders Facebook to reinstate a terminated page. Israeli regulator blocks crypto-mining company
How the Teva drama unfolded. The world's biggest generic drugmaker announced it would lay off 14,000 employees in the next two years as it pivots back to focus on generics and closes or sells off many of its assets. In anticipation of the announcement, Israel's largest labor union called for a general strike. Employees organized demonstrations outside of Teva facilities. We also looked at how things could have gone differently had Teva succeeded in hiring a different chief executive.
The kibbutz mess hall finds a second life. Once bastions of Israel's socialism, kibbutz mess halls are in for a rehaul as the rural communities search for additional income streams.
Read more
An Israeli regulator blocked a crypto-mining company out of stock exchange indices. After announcing a merger with a Canadian crypto-currencies company, a Tel Aviv listed shelf company became the hottest stock on the market, passing Israel's national carrier El Al in terms of market capitalization. Then an Israeli regulator weighed in, sending the stock crashing.
Read more
To foster tech relations in Africa, Israel needs to look up to African entrepreneurs. In sub-Sahara, the perception is that Israeli technology is strong, but Israelis have no idea how to adapt to the realities of doing business in Africa, writes Yoav Fisher.
Read more
Which is to be master? An Israeli judge ruled against Facebook in a case brought against the social network by the administrators of Israel's once most popular Facebook page. In 2015 Facebook terminated it with no prior notice, citing user agreement violations. Now Facebook is ordered to reinstate the page by 6 p.m. Jerusalem time Sunday, including all posts and followers.
Read more
Eyeing Chinese loan, Guinea to drop corruption claims against Israeli billionaire. Guinea is preparing to drop bribery claims against Israeli businessman Beny Steinmetz and allow his mining company BSG Resources Ltd. to resume its operations in the country,. The West African country initiated settlement negotiations with BSG to meet the requirements of a pending $20-billion loan offered by the Chinese government in return for aluminum concessions.
Read more
Kochs to invest in a medical device company. Koch Industries Inc. is leading an investment round of up to $150 million in Israel-based medical device company Insightec.
Read more
Free coding program for women. The Israeli Ministry of Labor partnered with women in tech organization She Codes.
Read more
Bitcoin is coming to the Israeli parliament. Israeli lawmakers will for the first time hold a policy discussion virtual currencies.
Read more