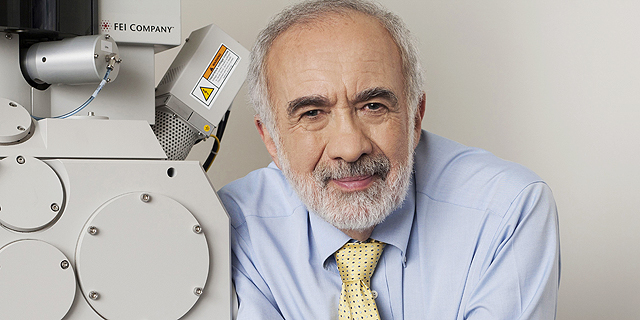 Q&A
Vindication Leaves Activist Teva Investor in a Glum
Tech entrepreneur Benny Landa had sounded the alarm on the generic drugmaker as far back as 2013, but seeing his forecasts realized gives him no satisfaction
Omer Kabir
|
14:18 22.12.2017
Teva Pharmaceutical Industries Ltd. activist investor Benny Landa had sounded the alarm on the generic drugmaker as far back as 2013, long before a series of business missteps sent the company into a downward spiral. One of Israel's leading businessman, in 2002 Mr. Landa sold the digital printing company he founded to HP Inc. for $800 million. After Teva announced plans to cut 14,00 of its employees to stabilize cash flow and financial outlook earlier this month, Calcalist caught up with Mr. Landa, only to find him in a glum over his correct in hindsight predictions.
For daily updates, subscribe to our newsletter by clicking here .
One of the first to castigate Teva's board of directors for its conduct, Mr. Landa said he sees no satisfaction in the realization of his pessimistic forecasts. "It's a catastrophe.I don't feel any satisfaction about raising the alarm beforehand and then seeing it happen," he said.
Q: Before Erez Vigodman was appointed as CEO, you were one of his supporters.
A: Until they chose him I was firmly opposed to appointing a CEO without Big Pharma background. But after they appointed him there was no point in fighting and sabotaging his chances. So I said, let's give him a chance, as he's already in the position. Fighting him would've only harmed both him and the company. In his 2014 blog post, Mr. Landa wrote that at the time he was of the opinion that the board should choose a CEO with experience in the global pharma industry. According to the post, he questioned the "board's ability to attract a top-tier candidate." However, after meeting with Mr. Vigodman at the board's request, he wrote to shareholders that he believes "that Erez Vigodman is made of the right stuff to succeed." He added that while Mr. Vigodman "does not bring pharma experience to the job, which is a pity ... he has the next-best experience". He concluded by saying he believes Mr. Vigodman "has the right combination of qualities and experience to lead Teva back to the Promised Land! As CEO of Teva, he has a lot to learn but needs to be given a fair chance to turn the Company around." Q: In retrospect, do you think the appointment was not in the best interest of the company?
A: It would've been inconceivable for the company to conduct a global search for the best CEO and then announce that actually, the best person was here all along, a board member no less. It's both insane and unexplainable. But the board was a closed group, they kept appointing one another for additional tenure, and they chose one of their own as CEO. And there you have it."
A: The CEO doesn't have a lot of options. He inherited whatever mess his predecessors cooked up. He is coming into a company that's on the verge of collapse. He received a company with $35 billion in debt.