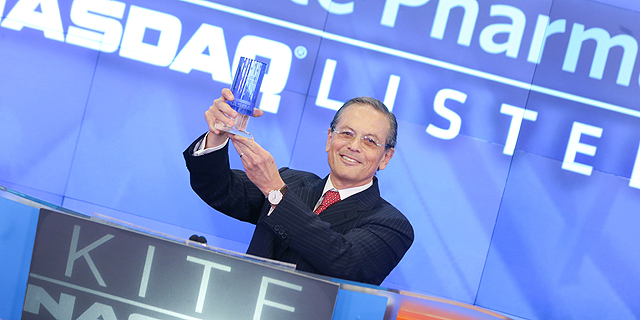 CTech's Daily Israeli Tech News Roundup
Immunologists Exchange Verbal Blows in Legal Fight Over Kite Pharma Windfall. Qatar is buying a lot of weapons to as a leverage against boycott. A $1.43 billion expansion plan announced for Israel's main airport
Immunologists exchange verbal blows in legal fight over Kite Pharma windfall. In August, Gilead Science bought anti-cancer treatment company Kite Pharma for $11.9 billion. Two Israeli scientists involved in the early research that led to the company's breakthrough are now quarreling over patent royalty payments.
Read more
Qatar is buying a lot of weapons as leverage against boycott. On June 5, Bahrain, Egypt, Saudi Arabia and the United Arab Emirates cut ties with Qatar, announcing an economic boycott. Since then, Qatar has radically increased its arms purchases, becoming the world's third-biggest military spender after Saudi Arabia and India.
Read more
A $1.43 billion expansion plan announced for Israel's main airport. Israel's Airports Authority expects a 50% increase in passenger turnover within the next five years for Ben Gurion airport, necessitating additional check in stations, upgraded security and additional parking spaces for aircraft. Read more
Fauda creator thought the dual-language political thriller would prove a hard sale. In retrospect, Fauda has done very well on Netflix, garnering a wide international audience and critical acclaim.
Read more
Warburg Pincus completes tender offer for email protection company Cyren. After payment, the private equity firm will own approximately 52% of outstanding Cyren shares. In November, Warburg Pincus paid $19.6 million in private placement for approximately 10.6 million Cyren shares, gaining a 21.3% stake in the company. Read more
Digital sales software startup Valooto raises $3 million. The Tel Aviv-based startup develops a cloud-based platform for digital sales and customer engagement.
Read more
Israeli security contractor Magal awarded $13 million East Africa contract. Magal will provide intrusion and cybersecurity systems for an unnamed East Africa port as a subcontractor of Toyota Tsusho Corporation.
Read more