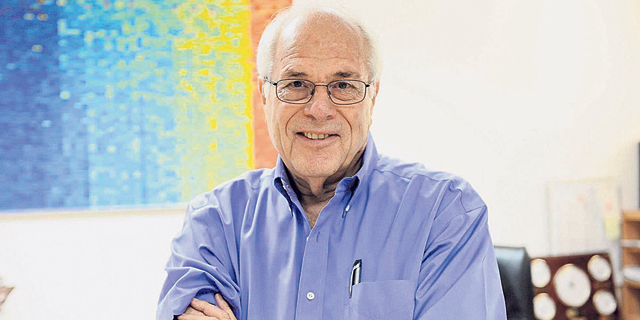 Scientist's Ex-Wife Joins Legal Melee Over Kite Pharma Windfall
Zelig Eshhar, the patent holder for Kite Pharma's anti-cancer technology, is currently being sued by a former student for infringement of patent rights
Zohar Shahar Levy
|
16:13 16.01.2018
The ex-wife of Israeli immunologist Zelig Eshhar, who holds the patent to the technology used to develop Kite Pharma's anti-cancer treatment, has joined the fight for a piece of the windfall from the company's August $11.9 billion sale to Gilead Sciences Inc.
For daily updates, subscribe to our newsletter by clicking here.
Approved by the U.S. Food and Drug Administration in October with a price tag of $373,000 per treatment, Kite Pharma's therapy for blood cancer uses a technology called chimeric antigen receptor T-cell therapy, or CAR-T, to engineer immune cells to better fight a patient's specific cancer. Mr. Eshhar sold the patent rights to Kite Pharma in 2013 and is also a member of the company's scientific board. After the sale, his options in the company are valued at around $72 million.
In September, Israeli immunologist Gideon Gross, who discovered the initial technology as part of his Ph.D. research under Mr. Eshhar in the 1980s, filed an injunction in Israeli court against Mr. Eshhar. Mr. Gross is claiming he was cheated out of his share of the patent royalties and is asking for 15% of the options, around $11 million.
In a response filed to an Israeli court, Mr. Eshhar refuted the claims, saying Mr. Gross has already received $1.5 million in royalties as part of his patent rights and is due to further payment following the commercial approval of the treatment. The options, Mr. Eshhar said, were awarded to him separately for his scientific advisory work at Kite Pharma. Furthermore, he alone spent three decades to make the technology viable, often sinking his own money into the venture.
Mr. Eshhar's ex-wife, Nomi Eshhar, has been pressing a suit against her ex-husband in family court for some time, with the latest complaint filed in July 2017, before Kite Pharma's sale was announced. She is a doctor of neurology and the daughter of Günther Friedländer, one of the founding fathers of generic drugmaker Teva Pharmaceutical Industries Ltd.
Following Mr. Gross' injunction, Ms. Eshhar filed a court request, seeking to obtain documents related to the lawsuit. The work for which Mr. Eshhar was given his Kite Pharma options was carried out when they were still married.
The court has yet to make a decision regarding the request, but has ordered both parties to respond to her claim.