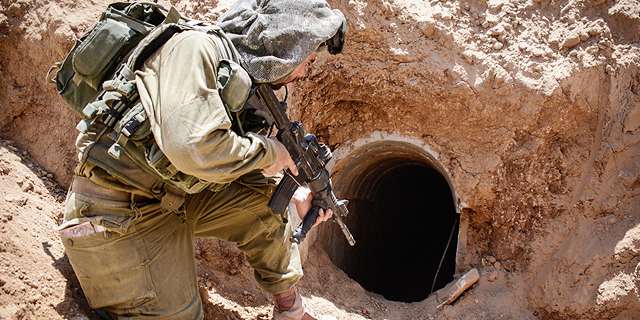 Opinion
Israel Has No Iron Dome Against Tunnels
Despite massive investments, technologies capable of giving operators a clear view of underground tunnels are still not in existence
Amir Rapaport, Israel Defense
|
17:46 21.01.2018
Earlier this week the Israeli military destroyed a Hamas tunnel in Kerem-Shalom, a kibbutz in southern Israel.
For daily updates, subscribe to our newsletter by clicking here.
For decades, Hamas has developed an underground network of tunnels as part of its strategy in the ongoing conflict with Israel. The 50-day Israel-Gaza conflict in the summer of 2014, in which Israel attempted to destroy the tunnel network, resulted in over 2,000 Palestinian and 71 Israeli casualties.
The tunnel destroyed this week was massive and elaborate, with a total length of nearly a mile (1.5 kilometers). It was also exceptional in the severity of the disaster it could have inflicted—a massive terrorist attack at the Kerem-Shalom goods transfer checkpoint above it.
The operation by the Israeli military focused on the opening of the tunnel, located in the outskirts of the Palestinian town of Rafah within the Gaza Strip. The tunnel started in the eastern part of the town, 900 meters (circa 1,000 yards) away from the border fence system, passing under the gas and fuel pipes of the Kerem-Shalom checkpoint complex and extending into Egypt. Out of the overall route, a 180-meter (circa 200 yards) long section was in Israeli territory.
A 2017 report by the Israeli State Comptroller, whose role is to supervise and review the policies and operations of the Israeli government, criticized the Israeli defense establishment's handling of the tunnel threat throughout, dubbing it slow and ineffective. Some parts of the report remain classified and it is yet unclear whether the full report will be made public, exposing the severity of alleged omissions.
Despite massive investments in a project led by Israel-based defense and homeland security manufacturer and contractor Elbit Systems Ltd., a subterranean Iron Dome-like system, capable of telling operators exactly where tunnels are, is yet to be developed.
Presumably, recent cases in which tunnels were spotted involved a mix of technological and intelligence resources.
However, the combination of detection capabilities of every conceivable type, including human intelligence resources, with a massive engineering project including the construction of a massive underground wall extending to a depth of dozens of meters, will eliminate the threat posed to the Israeli side by tunnels dug from Gaza by the end of 2018.
In Israeli standards, unprecedented investments were made to tackle the tunnel threat, but new threats will continue to surface. One such threat may be the use of drone swarms for attacks. Israel is now fighting underground--the next threat may be airborne.
This article was originally published on IsraelDefense.
Amir Rapaport is founder and editor in chief of IsraelDefense, a print and online magazine focused on issues concerning the defense industry, cyber, current events, regional politics, Israeli innovation, and technologies.