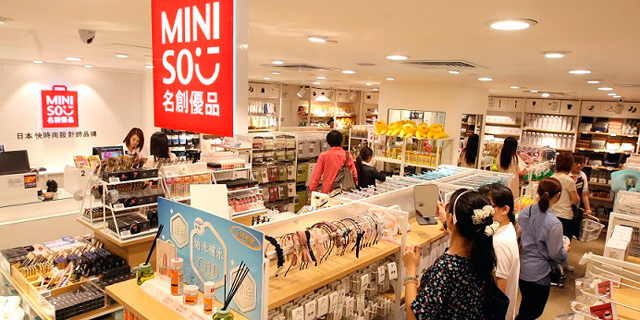 Chinese Low-Cost Lifestyle Brand Miniso is Coming to Israel
On Wednesday, the company announced its intention to open 50 stores in Israel over the next five years
Orna Yefet
|
14:31 15.02.2018
Guangzhou, China-headquartered low-cost retailer Miniso is coming to Israel, the company announced yesterday, with 50 stores planned for the next five years. Over the upcoming year, 10 stores spanning 3200-4300 square feet (300-400 square meters) each will be established in the country for a total investment of $4.26 million (NIS 15 million), with the first store located in Tel Aviv.
For daily updates, subscribe to our newsletter by clicking here.
Since opening its first store in China in 2013, Miniso has opened over 1,800 stores, with 80-100 new stores opening every month. The brand, which was co-founded by Chinese entrepreneur Ye Guo Fu and Japanese designer Junya Miyake, estimates that it will number 6,000 stores by 2025 and reach revenues of $9 billion in 2018.
In Israel, 50% of the franchise will be owned by Gonen Cohen and Nir Yakobov, two Israeli businessmen operating in China. The remaining share will be mostly owned by Israeli brothers Yitzhak and Sharon Nisanov, who have business interests in diamonds and real estate. Shlomi Gabay, formerly the CEO of Ikea Israel, will manage the franchise in Israel.