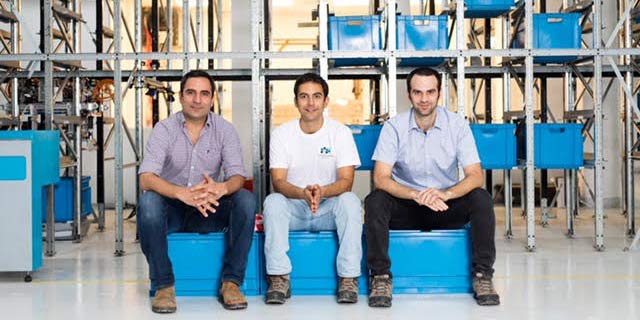 CTech's Daily Israeli Tech News Roundup
Warehouse robotics startup CommonSense Robotics raises $20 million. From eye-tracking to break-up monitoring, love tech can be the next big thing
Warehouse robotics startup CommonSense Robotics raises $20 million. The round was led by Playground Global, a venture capital fund co-founded by Android creator Andy Rubin, CommonSense Robotics develops robotic and artificial intelligence technologies to tackle the last mile distribution challenge, making 1-hour deliveries within the city an affordable option for retailers.
Read more
Read more
Content promotion company Outbrain wants a bite out of Facebook's pie. According to Outbrain, the company publishes 275 billion monthly content recommendations seen by more than a billion unique users. The company is currently one of the two biggest players in the industry, alongside Taboola, another Israeli-founded company headquartered in New-York. Read more
U.S. luge team 3D-printed sleds tailored to riders' bodies. The new sleds were created in collaboration with 3D-printing company Stratasys. The U.S. team has won one silver medal so far at the Winter Olympic Games in Pyeongchang, at the men's singles competition.
Read more
Warren Buffett's Berkshire Hathaway takes a position in generic drugmaker Teva. On Wednesday, Berkshire Hathaway disclosed a $358 million stake in the struggling drugmaker. Teva's fortunes have been going downhill for the past two years, largely due to its $40.5 billion acquisition of Allergan's generic unit Actavis in 2016, for which Teva took out $33.75 billion in loans. Read more
Wix projects 40% growth in revenue in 2018. Wix.com which helps small business create and maintain websites, released strong financial results, projecting higher revenues for 2018 than what analysts were forecasting. The Tel Aviv-based tech startup saw its stock price increase 12% following the announcement.
Read more
Cancer screening company Medical Systems raises $8 million. The Israel-based company manufactures an add-on device for colon screening, meant to increase detection of pre-cancerous tissue.
Read more
Chinese low-cost lifestyle brand Miniso is coming to Israel. The company plans to open 50 stores in Israel over the next five years. Since opening its first store in China in 2013, Miniso has opened over 1,800 stores, with 80-100 new stores opening every month. The brand, which was co-founded by Chinese entrepreneur Ye Guo Fu and Japanese designer Junya Miyake, estimates that it will number 6,000 stores by 2025 and reach revenues of $9 billion in 2018.
Read more
Dead Sea receding by 3 feet a year, new report says. The salty lake is known as a tourist destination for its breathtaking landscapes, the natural mineral content in its water, and for being the lowest point on earth, at 430.5 meters (1,477 miles) below sea level.
Read more