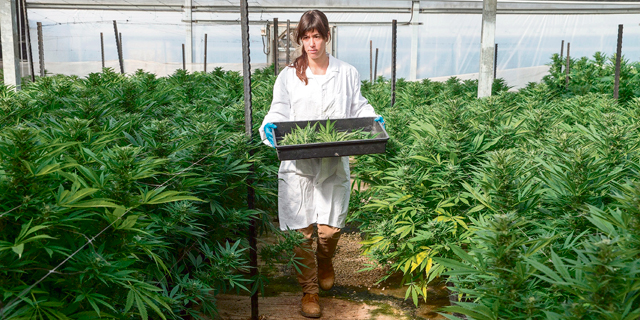 Bundle
Israel's Cannabis Fever: Six Stories From Israel's Growing Medical Marijuana Hub
Activity in the segment of cannabis-related technologies and medical cannabis has been on the rise in recent years in Israel
Activity in the segment of cannabis-related technologies and medical cannabis has been on the rise in recent years in Israel, following a regulatory reform in the country. The local industry developed quickly "after the government approved permits for research and development of cannabis for scientific purposes," according to a new report published Sunday.
For daily updates, subscribe to our newsletter by clicking here.
Following are six stories showcasing the development of Israel's Cannabis tech.
The Israeli Cannabis-Tech industry: 68 companies, 900 people, $76 million raised. Cannabis-related Israeli startups have raised a total of $76.4 million in equity between 2013-2017, a new report finds.
Read more
U.S. money flows Into Israeli medical cannabis companies. While U.S. regulators hamper cannabis-related research, Israeli cannabis startups draw the attention of investors and collaborators. Read more
Leaf, long-awaited home cannabis farming box, to start shipping in coming months. The Leaf automated home cannabis growing box looks like what would happen if Apple started making refrigerators. Around 1,500 units, currently priced at $3,000, have been sold. Shipping is expected to begin in April or May. Read more
Amsterdam-based cannabis breeder Barney's Farm invests $2.1 million in Tel Aviv-listed cannabis company Medivie. Formerly a company manufacturing medical oral devices for pain and migraine relief, Medivie was sold as a shelf company in November, before partnering with an unnamed Israeli Kibbutz growing medical cannabis in the country's north. Read more
Automated cannabis analytics startup GemmaCert raises $2.25 Million. The Tel Aviv-based startup developed a kettle-sized device that determines the potency of cannabis within 30 seconds, without destroying the sample. Read more
Israel's road to top spot in cannabis exports blocked by ministerial squabble. In August 2017, an Israeli parliamentary committee estimated that cannabis export could net Israel as much as $1.1 billion a year. Read more