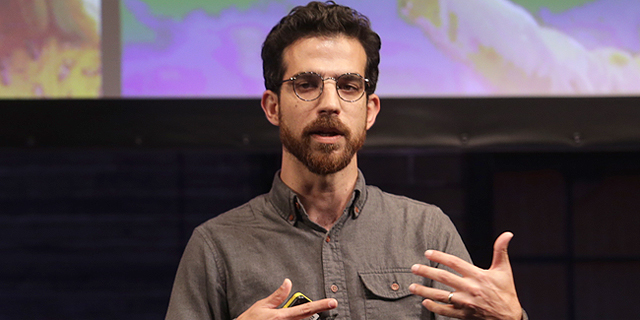 Opinion
To Reclaim Their Audiences, Publishers Must Unlock the Power of Innovative Visual Storytelling
Facebook's new content policy is favoring user-generated content to publisher content. It is wake-up call for publishers to seize the opportunity and innovate storytelling to reclaim audiences
Moti Cohen
|
17:24 20.02.2018
Social networks such as Facebook, Instagram, and Snapchat, have a long and bitter love story with content makers. These networks have diverted audiences away from news outlets, but at the same time, they are a strong source of traffic into media outlets.
For daily updates, subscribe to our newsletter by clicking here.
In recent years, however, news outlets have also become a source of strain for social networks, with some of them circulating fake news engineered by governments and click-bait specialists. This has caused Facebook to take a step back and reduce the visibility of news outlets within its social feed. Now publishers must find a new way to win over users and convince them to share as many of their links on Facebook as possible.
With this bittersweet relationship, there's no arguing about the fact that today's biggest generators of innovative content are the social networks, not the content makers themselves. The greatest content experiences, which are mostly visual, began outside the boundaries of content makers: Twitter gave birth to the social post, Facebook had the feed, Instagram engineered the filtered image, and Snapchat threw in the ephemeral photo, and later on - the Story format.
As storytelling is becoming more and more visual, the Snapchat story, launched almost five years ago, is probably the most vivid way to experience content in our time (mobile first, on the go), one that sets the course for the future of content and news-making. It's no wonder it was successfully adopted by Instagram, Facebook, and recently Amazon, that will soon launch Spark to convey product-oriented stories. After all, since ancient times humans are wired to take in their myths, stories, and news visually.
To stay in the game, Snapchat, Instagram, and Google are fighting to add features to their versions of the story, in a constant arms race that has benefited from plenty of innovation in storytelling. Today's stories allow users to add GIFs, augmented-reality filters, zoom-in capabilities, personalized avatars, location features, and interactive features such as quizzes, polls and interactive emojis.
Soon after, publishers have started their own Story experiments with Mashable releasing new vertical video product called 'Reels' that has a Story look and feel. Currently, Mashable produces two Reels a day. We at Apester took that a few steps further and launched a media player that allows publishers we're partnered with, such as People.com or Virgin, to create an interactive Story and share it anywhere on the web. However, we weren't the last technology player to join the Story spree.
A week after we launched our Story platform, Google launched the AMP Story, a story format built on Google's AMP technology for mobile, with half a dozen publishers already signed into it. Google Stories can be indexed and can appear in the Google search engine, yet they are keeping their readers within Google's ecosystem, which is not a real open web experience. In addition, the AMP Story creation requires technical know-how, a mission kept for professionals, not something easily approachable by editors and reporters.
Interestingly, at about the same time, Snapchat announced a new feature called "Stories Anywhere," allowing users to share stories outside the app, embedding them on Facebook, Twitter or even within an email. A nice step in the right direction, yet it isn't an experience anyone can enjoy throughout the open web. But last week Snap unveiled San Map, a feature that allows users to see live stories on a map, open them and theoretically to embed on any website, including publishers'. Although it wasn't launched for that purpose, we see that move as another step in releasing the once closed Story experience to anyone.
Internet companies started allowing people to create beautiful stories, share them privately, and then have them disappear after a while. But as these innovative storytelling forms evolved the networks have realized they hold great opportunity for news outlets that successfully adopt them.
The Story format is the first time that digital content originating from traditional print and news industry meets video content organically. As such, it has the potential to turn into the mainstream format of future media. Imagine news outlets producing TV-like content, or streaming services communicating with their users with interactive stories.
The Story format is being discovered gradually for other purposes besides media. Messaging app WhatsApp, and Headspace, the digital service that provides meditation sessions and mindfulness training, adopted a Story-like tutorial, and Amazon adopted the Story format for its review app.
Facebook's new policy towards publishers, therefore, can be a wake-up call for publishers to seize the opportunity and truly innovate. To stand out from the competition, increase shareability, and to get ownership of their data, they need to get rid of the preoccupation with Facebook and start creating new forms of storytelling. They need to focus on better communication with their audience, who seek more visual forms to present meaningful ideas and information.
The story format is only one of several formats they can adopt, as the opportunities for innovating and visualizing the textual web are endless.
Moti Cohen is the CEO and Co-Founder of Apester, a storytelling platform that enables the creation, distribution, and monetization of visual interactive content.