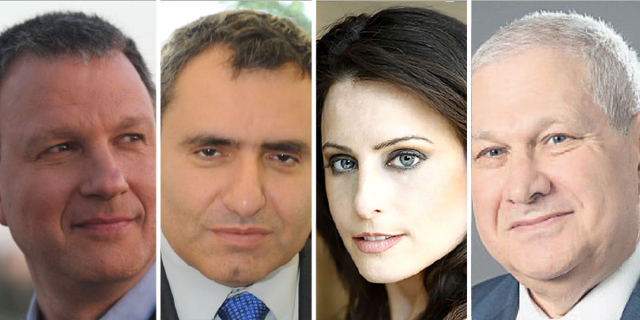 Mind the Tech NY
New York to Host Israeli Tech Conference
Leading figures from industry and government will convene March 12-14 at Calcalist's second New York City tech conference
Omer Kabir
|
19:40 20.02.2018
Calcalist will host its Mind the Tech conference in New York for the second time on March 12-14. Held in collaboration with Israel's Bank Leumi, the event will feature leaders of industry and government, including former U.S. Senator Joe Lieberman and former Central Intelligence Agency Director James Woolsey. The conference will also host a startup competition by Israel-based venture capital firm Jerusalem Venture Partners (JVP), the winner of which will be eligible for a $1 million investment.
For registration and further details, click here.
"For the second time, Calcalist is hosting its flagship tech conference in New York City as part of an effort to reach out to members of the business community in the U.S. and Europe who are interested in Israel," said Yoel Esteron, Calcalist's founder and publisher. "To this end, Calcalist has launched CTech, a website dedicated to Israeli tech, and has hosted conferences in New York, San Francisco, and London, in addition to the many conferences in Tel Aviv. We hope that the conference in New York will be the most important American-Israeli tech and innovation gathering in 2018."
The Democratic vice presidential nominee in 2000, Mr. Lieberman is now senior counsel at law firm Kasowitz Benson Torres LLP. Mr. Woolsey stepped down from his role as a senior adviser to then President-elect Donald Trump, shortly before Mr. Trump was to receive briefing on Russia's role in attacks on the presidential elections in the U.S. A senior consultant on national security and energy, Mr. Woolsey serves as chairman of Washington-based right-leaning public policy think tank The Foundation for Defense of Democracies. He is also a member of American foreign policy think tank The Washington Institute for Near East Policy.
Additional speakers include Abigail Posner, head of strategic planning at Google, and Nelson Griggs, President of the Nasdaq Stock Exchange.
Shawn Bryant, managing director at Intel Sports and Steve Hellmuth, vice president of media operations and technology at the NBA, are also planned to attend the event. Intel's True VR technology was used to enhance the broadcast of the NBA All-Star Game on Monday.
The Israeli delegation to New York will be led Zeev Elkin, Israel's minister of environmental protection and Jerusalem affairs. Mr. Elkin will be joined by Aharon Aharon, the CEO of Israel's government innovation investment arm, and the former manager of Apple's research and development activities in Israel.
David Brodet, chairman of Bank Leumi, will also participate at the event. Additional Bank Leumi executives planned to attend the conference include Yaacov Haber, head of the bank's corporate and commercial division, Yifat Oron, the CEO of LeumiTech, the technology banking subsidiary of the Leumi Group, and Avner Mendelson, president and CEO of Bank Leumi USA.
For daily updates, click here to subscribe to our newsletter.
JVP's founder and chairman Erel Margalit will speak at the conference. A former Israeli lawmaker, Mr. Margalit announced his retirement from the Israeli parliament and from politics in general in October. First elected to the Israeli parliament in 2013, he served as a member of the Israeli parliamentary Foreign Affairs and Defense Committee and its cybersecurity subcommittee. Nimrod Kozlovski, a partner at JVP and Israel-based law firm Herzog Fox & Neeman will host the conference. Also participating are executives form Tel Aviv-based online insurer Direct Finance Ltd.—Founder and CEO Eran Wolf and vice president of technologies and business development Ronit Peter Ben-David. Isawi Farig, a member of the Israeli parliament will represent the lobby for advancing the tech industry in the Arab community in Israel.
Other participants scheduled to attend the event include the following:
Doug Vance, vice president at ABC News
Nick Rockwell, chief technology officer at The New York Times
Jeff Horing, co-founder and managing director at Insight Venture Partners
Lindsey Nelson, Chief Marketing Officer at Vox Media
Shelly Madick, co-founder of Bow and Drape
Gregory Zuckerman, best selling author and Special Writer at the Wall Street Journal
Idan Ravin, a basketball trainer who has worked with NBA stars including Kobe Bryant and Lebron James
Charlie Javice, founder of Frank Financial Aid

Executives of Israeli venture capital funds scheduled to participate in the convention include the following:
Harel Beit-On, founder and general partner at Viola Growth
Pinhas Buchris, managing partner at Tel Aviv-based State of Mind Ventures and former head of unit 8200, the Israeli military's equivalent of the NSA.
Nadav Zafrir, former head Unit 8200 and co-founder and CEO of cybersecurity startup incubator Team8 LLC.
Nir Lempert, CEO of telecom, security and cleantech company C. Mer Industries Ltd.
Noam Inbar, head of the startup ecosystem at Oracle Corporation's Israel office.
Tal Barnoach, general partner at VC firm Disruptive Technology Ltd.
Arik Kleinstein, founder of Glilot Capital Investments GP Ltd.
Amir Gal-Or, founder and managing partner of private equity firm Infinity Group.
Sivan Shamri Dahan a partner at Commera Capital Ltd.
Shuly Galili, founding partner at UpWest Labs, a Silicon Valley venture fund focused on helping young Israeli startups in entering the U.S. market.
Boaz Peer, director of Qualcomm Ventures Israel.
Shelly Landsman, the general manager of Microsoft's operations in Israel.

Israeli entrepreneurs speaking at the conference include the following:
Jonathan Adiri, former chief technology officer for Israeli President Shimon Peres, and founder of Health.io, a Tel Aviv-based startup developing smartphone-based home medical diagnostics technologies. In 2012, Mr. Adiri was nominated as a "Young Global Leader" by the World Economic Forum.
Yaron Galai, co-founder and CEO of online content promotion company Outbrain Inc. Founded in Israel in 2006 and headquartered in New York with several global offices, Outbrain distributes content through sponsored and non-sponsored links published on content websites. Fox News, CNN, Sky News, The Guardian, and Le Monde are some of the company's customers.
Ran Harnevo, former AOL president of video and co-founder and CEO of Homeis, a social network connecting expats. Founded in 2017, the company raised $4 million in a seed funding round.
Oded Granot, a senior Hollywood visual effects professional working for London-based visual effects company Double Negative Ltd. Mr. Granot was involved with the production of some of 2017's most prominent action films, including "Wonder Woman" and "Blade Runner 2049".
Ira Laufer, CEO of sustainable consumer products company Just Goods Inc., counting among its key investors American actor Will Smith and his son Jaden. The company's leading brand is Just Water, a line of mineral water distributed in paper bottles with caps made of degradable sugarcane-derived plastic.
Yaniv Erlich, chief scientist at Israel-based online genealogy service MyHeritage Ltd. and professor of computer science at Columbia University. Mr. Erlich developed a method for storing compressed digital data within DNA sequences, that can potentially significantly reduce the physical size of server farms.
Idan Cohen, founder and CEO of New York-based smart planter startup Grow. The company's planter, equipped with sensors and an automatic hydration system, is operated using a mobile app. Mr. Cohen previously founded media streaming company Boxee TV Ltd. acquired by Samsung Electronics Co. for $30 million in 2013.
Roy Degani, CEO of Aerodrome Ltd., an Israel-based company that develops a drone system allowing farmers to scan their plots and receive real-time big data analyses of the state of their crops.
Zohar Dayan, co-founder and CEO of New York-headquartered automated videos startup Wibbitz. In October, Wibbitz announced a $20 million investment round.
Moshe Friedman, co-founder and CEO of Kama-Tech, a program aimed at integrating ultra-Orthodox (Haredi) Jews into the Israeli tech workforce. Mr. Friedman will lead a delegation of 20 Haredi entrepreneurs that will present their startups during the conference.
Shachar Orren, content vice president at interactive content company Playbuzz Ltd.
Steven Kalifowitz, U.S. operation manager at Israeli online real estate data company Madlan

As part of the event Israeli startups will get a chance to pitch to U.S.-based investors in a Meet and Pitch event hosted by Calcalist and SOSA NYC. Scheduled to participate: David Wolfson, partner at Tectonic Capital; Mitchell Kleinhandler, venture partner at Scout Ventures; Natanel Barookhian, founder of TechU Angels; David Teten, managing partner at HOF Capital; James Hahn, the founder and CEO of Asia Alpha Private Equity; Andrew Ackerman, managing partner at Dreamit Ventures; and Nihal Mehta, the founder of Eniac Ventures.
"SOSA brings together the worlds' leading corporations and investors, connecting them to disruptive tech startups within the SOSA community that will drive their future," Guy Franklin, General Manager of SOSA NYC, said in a statement. "We're happy to do the same during the Meet and Pitch session at the Calcalist 'Mind The Tech' conference, and engage US investors and corporations with more than 100 startups from our network," he added.