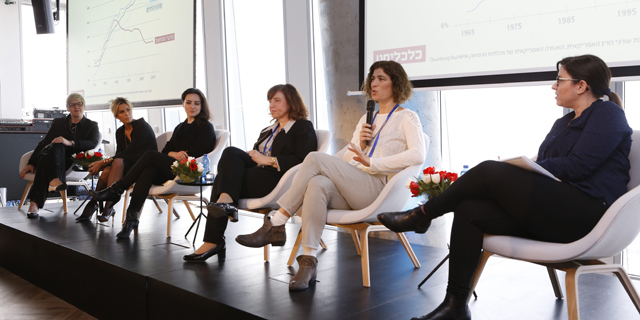 Women Tech Entrepreneurs Discuss Barriers to Advancement
Even with many women graduating from Israeli military's elite cyber and intelligence units, the gender disparity in Israeli tech is still jarring
Sefi Krupsky
|
18:21 25.02.2018
Fiona Darmon, a general partner at Israel-based venture capital firm Jerusalem Venture Partners (JVP), recalled her military service while speaking on a panel of women tech executives at a conference hosted by Calcalist at Tel Aviv on Sunday. Ms. Darmon said that about half of her fellow staff in Unit 8200, known the Israeli equivalent of the NSA, were women. Yet, unlike the men who served there, very few of the women ended up in tech careers.
For daily updates, subscribe to our newsletter by clicking here.
"We are more careful and aspire for more security," Ms. Darmon said, adding that many of the women coming to interview for tech positions ask for a student positions, despite their experience.
"I did not stop at red light; I worked very hard," Ms. Darmon said. "If we sit and wait to be asked we will never arrive," Ms. Darmon said. "We have to be the role models. The next generation has fewer limitations. They really do believe they can conquer the world, and we must not stop them. It is true that there is men's club but we must create our own women's club. That is our mission," she said.
According to a report by Israel's National Economic Council from May 2017, similar numbers of men and women apply to serve in military tech units, but only 28% of military code writers and a 12% of cyber personnel are females.
Adi Soffer Teeni, the general manager of Facebook's operations in Israel, said on Sunday that while Israeli tech has been a financial growth engine, the sector has still to attain a worthier goal—becoming an engine for social growth by enhancing diversity.
Ms. Soffer Teeni also said that women must take action to demand equal treatment and advance their tech careers. "We have reached a stage in the evolution when we have to take responsibility," she said.
Michal Kissos Hertzog, head of innovation and digital at Israel's Bank Leumi, said that societal structures are still controlled by men and that women still find it hard to advance to top management roles. "According to research, diverse companies show a 15% rise in output compared with non-diverse companies, and yet only 25% of people employed in tech are women, and women make up only 9% of tech entrepreneurs in Israel," Ms. Kissos Hertzog said. "We must go to the cause," she said.
Lihi Zelnik-Manor, a professor of Electrical Engineering at the Technion, Israel Institute of Technology, also participated in the panel. Ms. Zelnik-Manor said that the tech sector is the new men's club and that women naturally feel less comfortable in the male-dominated environment.
A study published in August 2017 by the Israeli Ministry of Finance in collaboration with the Ministry of Social Affairs and Social Services showed that women are represented in lower numbers in each and every stage of the Israeli tech employment cycle, from education to entry-level jobs, and particularly in higher-level positions. In 2017, women made up 24.3% of all tech employees, a number significantly lower than the percentage women represent in Israel's working population (49.5%). The study also revealed that the wage gap between men and women working in the tech industry increases with age. At 29, men earn 7% more on average than women employed in similar positions. By the age of 40, the gap increases to 18%.
According to data supplied to Calcalist in November 2017 by Start-Up Nation Central (SNC), a Tel Aviv-based non-profit organization that manages a database of Israeli tech companies, there are fewer women tech entrepreneurs and startups headed by women have on average a harder time getting funded. Only 10.5% out of more than 4,200 founders listed in the SNC's database whose startups were founded since 2014 are women. An even smaller proportion of women have been able to attract outside investment for their ventures. Of the 387 founders whose startups have raised more than just seed investments, only about 5% are women. According to SNC, since 2014, 80 Israeli startup founders have reached the rarefied air of ventures that have gone public, gotten acquired, or raised Series B or C funding. None of them are women.