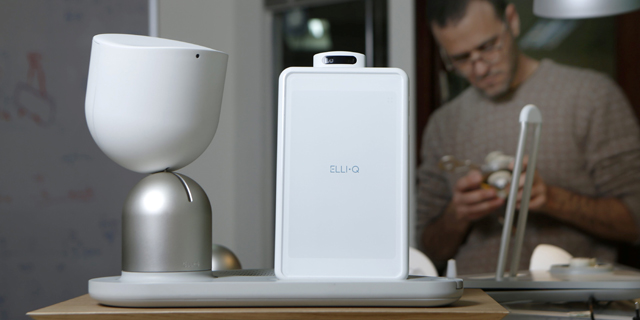 From Smart Crates to Friendbots, Here Comes the Robo Revolution
Powered by advances in AI and material design, automatons are taking on a bigger role in our lives
Powered by advances in AI and material design, automatons are taking on a bigger role in our lives. From smart wheeled containers that streamline delivery of consumer goods to precision surgery robots, machines are now doing jobs once reserved for humans, and in some cases even attempt to take on social functions.
Following are eight stories about robots that captured our readers' attention.
A robot companion for the elderly looking for new friends. Dubbed ElliQ, the robot will be introduced into the homes of dozens of senior citizens in California and Florida to test how it integrates into the day-to-day lives of seniors and their families. Read more
Warehouse robotics startup CommonSense Robotics raised $20 million. CommonSense Robotics develops robotic and artificial intelligence technologies to tackle the last mile distribution challenge, making 1-hour deliveries within the city an affordable option for retailers. Read more
Daimler's chairman sees fleets of robo-taxis coming. The cars of the future will be electric and move in automated fleets of robo-taxis, said Daimler Chairman Dieter Zetsche, speaking at the ribbon-cutting ceremony for a Mercedez-Benz research and development center in Tel Aviv in November. "Cars will basically become members of the Internet of Things and algorithms, predictive analysis and artificial intelligence, will ensure that our cars will move, for instance, like swarms," he said.
Read more
Will Israelis build Saudi's robo city? Venture capitalist and former politician Erel Margalit was addressing a conference on regional cooperation in Qatar lin November, when he suggested Saudi Arabia should consider using Israeli technology in developing its future city of Neom where robots will outnumber the people. Read more
Home assistants may lead the way to home robots, writes Eze Vidra, who is the chief innovation officer at digital health company Antidote.me. The connected machines will become basic home appliances, replace our use of phones at home and might be the predecessors of home robots.
Read more
Roomba for solar panels? Eccopia, an Israel-based startup developing robots that clean solar panels, has raised $13 million in equity funding. Researchers from Duke University recently found that cleaning the dust off dirty solar panels can increase efficiency by 50%. Read more
Robotic exoskeleton company makes strides towards $7.2 million. Nasdaq-listed ReWalk Robotics announced a public offering in November. The company develops a wearable walking aid device for people with spinal cord injuries, invented by an electrical engineer who became a quadriplegic following a car accident. Read more
Medtronic increased investment in surgical robots company. Mazor Robotics develops robotic guidance systems for brain and spine surgery. Medical device maker Medtronic invested an additional $40 million in Mazor, bringing its total investment in the company to $72 million. Read more