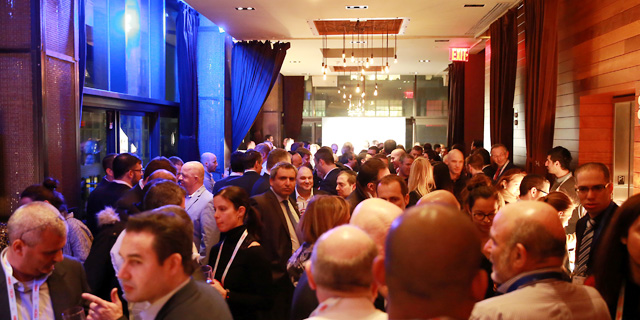 Mind the Tech NYC
Calcalist's Tech Conference in New York City Opens
Over a hundred startups are represented at the conference, which aims to bring together promising Israeli startups and New York investors
Meir Orbach and Orr Hirschauge
|
13:55 13.03.2018
New York—On Monday night, Calcalist's Mind the Tech conference in New York City opened with a reception cocktail, held at the rooftop bar of the Park Avenue South Royalton Hotel.
For daily updates, subscribe to our newsletter by clicking here.
Over a hundred startups are represented at the conference, Calcalist CEO Steve Shumacher said in the opening remarks of the event. These startups will get an opportunity to meet with dozens of investors at a Meet and Pitch event that will be held as part of the conference on Wednesday, he added.
"We've decided to bring together promising Israeli startups and investors here in New York City, in the hopes of creating new and successful partnerships," Mr. Shumacher explained.
Attendees at Monday's night event included, Yifat Oron, CEO of LeumiTech; Moshe Yanai, founder and CEO of Infinidat; Shuly Galili, founding partner of UpWest Labs, a Silicon Valley based seed fund that invests in Israeli startups; Arik Kleinstein, founder and managing partner at Glilot Capital; Nadav Zafrir, co-founder and CEO of cybersecurity startup foundry Team8 and former commander of the Israeli military signal intelligence division Unit 8200; Pinchas Buchris, managing partner at State of Minds Ventures and former head of Unit 8200; Moshe Friedman, co-founder of KamaTech; Boaz Peer, investment director at Qualcomm Ventures; Guy Franklin, general manager at SOSA NYC; Eyal Bino, partner at ICONYC Labs; Yoav Tzruya, partner at JVP; and Nimrod Kozlovski, partner at JVP, HFN and adjunct professor for Cyber Studies at the Tel Aviv University.