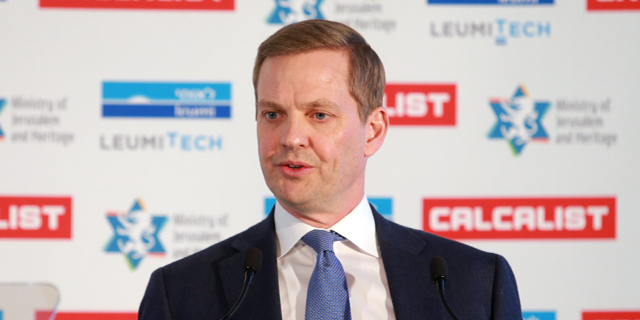 CTech's Tuesday Israeli Tech News Roundup
Calcalist's Mind the Tech conference opened in New York City. Israel—the startup that predates 1948. Chinese telecommunications company Huawei sued for $23 million by Israeli distributor Electra for breach of contract
Calcalist's Mind the Tech conference opened in New York City. Over a hundred startups are represented at the conference, which aims to bring together promising Israeli startups and New York investors. The event features leaders of industry and government, including former U.S. Senator Joe Lieberman and former Central Intelligence Agency Director James Woolsey. The conference will also host a startup competition held by Israel-based venture capital firm Jerusalem Venture Partners (JVP), the winner of which will be eligible for a $1 million investment. Read more
Read more
Chinese telecommunications company Huawei sued for $23 million by Israeli distributor Electra for breach of contract. In February, Huawei notified Electra it is canceling their five-year exclusive distribution contract, due to Electra's failure to reach its $60 million sales goal for 2017. Electra responded by declaring that Huawei failed to uphold its commitment to maintain a competitive price and assure a minimal gross profit for Electra.
Read more
Tokyo-headquartered multinational electronics company TDK is eyeing Israeli startups for acquisitions and strategic cooperations. The Japanese company has assigned its Israeli subsidiary, TDK-Lambda, to scout for investment and partnership opportunities in the country in the upcoming year. Earlier this month, TDK invested in Israel-based quick-charging battery startup StoreDot.
Read more
How to survive and thrive in the U.S. market. The Israeli startup ecosystem is mostly an export economy – most startups who develop their product in Israel focus on distributing it in global markets, and specifically in the U.S. as their primary market, says Noam Inbar, head of Oracle's startup ecosystem in Israel. On Wednesday, Ms. Inbar will participate in Calcalist's Mind the Tech conference in New York.
Read more
Tow truck satellite startup Effective Space to launch two service spacecraft in 2020. The Israeli company signed a launch deal with U.S.-based International Launch Services (ILS). Effective Space develops small spacecraft that provide satellite operators with life-extension and end-of-life services, such as station keeping, orbit correction and relocation, and de-orbiting.The company aims to follow the 2020 launch with the launch of six more spacecraft every year.
Read more
Video monetization company Anyclip launches AI-driven content platform. The new platform enables advertisers to customize content and target users according to brands, topics of interest, and even emotions.
Read more
Spotify launches service in Israel at $6 a month. In Israel, Spotify faces competition from international streaming services such as Apple Music, Deezer, and Tidal, as well as services offered by local cellular carriers. Israel is the 62nd country in which Spotify will become available.
Read more