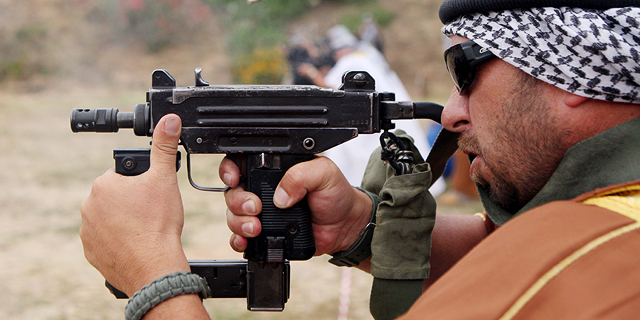 CTech's Wednesday Roundup of Israeli Tech News
Arms race is on, says arms manufacturer. CryptoCelebrities game's website shuts down, token holders stuck with "hot potato"
Arms race is on, says arms manufacturer. The world is seeing a de-facto "cold war," said Bezhalel Machlis, the CEO of Israeli defense contractor Elbit Systems, during the company's earnings call on Tuesday. The call followed the publication of Elbit's annual financial reports for 2017, for which the company reported revenues of $3.3 billion and GAAP gross profit of $997.9 million, compared to $959.6 million in 2016. The Israel-based defense contractor has seen an 11% increase in backlog in 2017 compared to 2016, largely driven by a worldwide increase in defense budgets.
Read more
CryptoCelebrities game's website shuts down, token holders stuck with "hot potato." Within weeks after the game was launched, people had spent millions of dollars in ether on tokenized versions of U,.S. President Donald Trump, Rihanna, Elon Musk and dozens of other celebrity that are now virtually worthless.
Read more
Israel confirms 2007 attack on Syrian nuclear reactor. Between 12:40 a.m. and 12:53 a.m. on September 6, 2007, eight Israeli Air Force aircraft dropped 24 tons of ammunition on Al-Kibar, in the Deir ez-Zor desert in northeastern Syria, which according to Israeli intelligence was a nuclear reactor built by Syrian President Bashar Assad with North Korean support. A decade later, the Israeli Military Censor decided to clear the details of the attack for publication. Read more
Waze carpooling app now available in Washington state. Earlier this month Waze rolled out a new version of its carpool app, allowing users to choose who they ride with based on detailed personal profiles. Read more
Software engineers at Netflix have the highest salary expectations in the tech industry. An employment website for software engineers has crunched data on salary expectations of its 40,000 registered users. Engineers at Netflix said they would consider taking a different job if it paid a year salary of $337,368 on average, a sum far higher than the expectation of employees at any other company. Google's engineers came in second with an average salary expectation of $219,524, a whopping 54% less. Read more
Founder of online disability support network Yoocan launches dedicated accelerator. Moshe Gaon, the CEO and co-founder of online disability support network Yoocan Technologies Ltd., is launching technological hub dedicated to investment in assistive tech initiatives. Announced during Calcalist's Mind the Tech conference, held in New York last week, the accelerator-like venture will target early stage technologies and programs.
Read more
B2B marketing intelligence company CaliberMind raises $3.2 million in seed. Established in 2016 by Israel-born Raviv Turner and Oren Zamir and headquartered in Boulder, Colorado, CaliberMind offers an artificial intelligence and machine learning-based customer data software to clients engaged in B2B marketing. The company's software automatically coordinates, analyzes and unifies customer data sets collected from varying channels, including advertising, website, marketing, and sales systems.
Read more
Mexichem CEO visits Israel following major drip irrigation acquisition. The Mexico-based company completed the deal to acquire an 80% stake in drip-irrigation pioneer Netafim in February, leaving 20% of the company in the hands of the kibbutz that founded it.
Read more