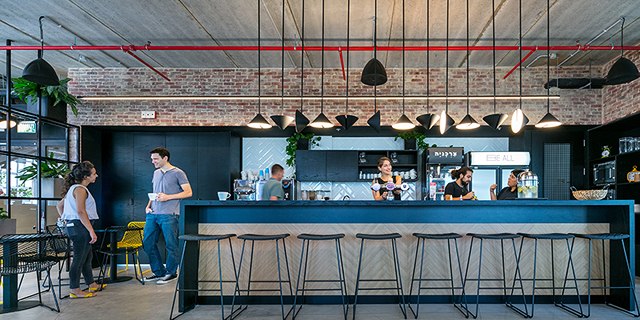 Homegrown Israeli Coworking Firms Sprout Overseas Locations
The country where WeWork founder Adam Neumann spent his formative years has become central to creating coworking companies with global ambitions
While new coworking spaces are mushrooming all over Israel, the country has also become central in creating coworking companies that then go on to expand to other geographies.
For daily updates, subscribe to our newsletter by clicking here.
WeWork founder Adam Neumann hails from Israel where he spent some of his formative years in a Kibbutz, an inspiration to some of the company's ambitions in creating co-living projects. Now, WeWork is also trying to bring its co-living brand "WeLive" to Tel Aviv, and the same Kibbutz where Mr. Neumann grew up is turning its mess hall into a coworking space.
Read more
Tel Aviv City Hall, WeWork collaborate to bring co-Living to town. WeWork is exploring the possibility of opening a co-living location on Tel Aviv's skyscrapers corridor, in a project that would involve the construction of a 17-story building. The Tel Aviv City Hall is also promoting two other co-living projects, as a way to tackle a housing shortage and soaring rental prices. Read more
Once Israel's beating socialist heart, kibbutz mess halls are turned into startup hubs. Less than a mile off the Gaza border, the mess hall at Kibbutz Nir Am is being renovated. Once the beating heart of the commune's socialist lifestyle, the hall is being retrofitted with offices framed in black metal, with a shared kitchen, and a pool table. Nine pre-vetted startups are already waiting to move in. In search of additional revenue streams, Israel's kibbutzim hope to transform over 200 buildings into coworking spaces. Read more
Coworking real estate company Cambridge Innovation Center (CIC) aims to open Tel Aviv location. The Cambridge, Massachusetts company is "looking actively" for local partners and for 12,000 square meters of office space in the city. Read more
Read more
Microsoft leases coworking space in Tel Aviv suburb. Microsoft is temporarily relocating some of its research and development activity to the location, leased from coworking real estate company Mindspace, until the company opens a new campus nearby in 2020. Read more
Israel-based Mindspace to open coworking office locations in the U.S. Mindspace charts a plan to enter the American market for the first time, offering shared office space in San Francisco and Washington D.C. Mindspace operates shared office locations in Israel and in European cities like London, Warsaw, and Berlin. Read more
Another coworking space opens on the highest floors of Israel's highest building. Teddy Sagi Group launched shared office venture "Labs" in Tel Aviv. Located on the highest floors of Israel's highest building, the Azrieli Sarona tower, the space is the first of two "Labs" locations to open in Tel Aviv. Read more
Coworking real estate company Be All to open new 26,900 square feet space in Tel Aviv. Israeli shared office space real estate company Be All is set to open a new, 26,900 square-feet coworking space in Tel Aviv in May. It would be a third coworking location for Be All.
Read more