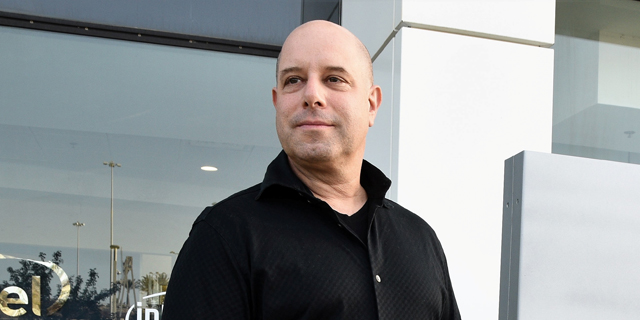 Interview
Beyond Intel's Tick-Tock Model Lies the Multi-Wave
Intel's platform engineering chief Amir Faintuch says the company no longer adheres to its long-running one-punch two-punch chip design roadmap
Omer Kabir
|
15:43 01.04.2018
Intel is now exploring opportunities lying beyond its long-running "tick-tock" chip design roadmap. For one, this means Intel is now trying to get more versions of each basic chip design out to the market, Intel's general manager of platform engineering Amir Faintuch, said in a March interview with Calcalist.
For daily updates, subscribe to our newsletter by clicking here.
Three and a half years ago, when Mr. Faintuch was asked by Intel CEO Brian Krzanich to join the company, he faced a dilemma. At the time, he held a senior position at chipmaker Qualcomm Inc., and Intel was the company that missed out on the mobile revolution, a company whose main activity—processors for personal computers—was a deteriorating market segment.
"It was not an easy decision, and I am not at all sorry I made it," Mr. Faintuch said. Intel, he said, is changing at a "dizzying" speed.
When he joined Intel in 2014, Mr. Faintuch was faced with a complex task—to get Intel out of its 'funk' and help win back its once central position as a market leader and innovator. "To enter multiple new areas of activity we had to shake up the way Intel was handling development," Mr. Faintuch said.
In 2014, Intel was operating according to its two-year development model dubbed 'tick-tock.' During the 'tick' cycle, Intel concentrated on developing manufacturing processes, increase transistor density and expand the capabilities, performance, and efficiency of existing microarchitectures. During the 'tock' cycle, Intel focused on developing new chip architectures. Each dual-cycle would see the company upgrade its manufacturing facilities in a costly process.
"I saw an opportunity to develop new products, enter many more segments and increase the value of the architecture," Mr. Faintuch said. "So I retired the tick-tock model and introduced a new model called Multi-Wave. This model means that we can do many more variations with each chip. Both the processor and the architecture go through waves of innovation," Mr. Faintuch said. "It created a revolution. We significantly cut the time it takes to bring products to market."
In recent years, Intel has pivoted from a focus on PC chip development and now invests many resources in entering new segments and preparing for the next computerized revolution. These new segments include autonomous cars, the development of complete solutions for fifth-generation mobile internet, solutions for data centers, and products designed to enhance hard drives' speed.
In 2014, the PC market made up around 70% of Intel's revenues. Now, the market sector's makes up "little more than 50%" of the company's revenues, Mr. Faintuch said.
"When the core activity shrinks at this volume, most companies disappear. We managed to remain strong. When Brian took the role of CEO, he learned from the past and realized that despite the fact that Intel missed a few amazing opportunities in the market it was still very strong. But he knew no one is fail-safe and so in the past year we entered many new fields, in which Intel decided to take educated gambles, so it does not miss out on other opportunities."
"Intel constantly enters new fields, from virtual reality to smart homes, autonomous cars, and more," he said.