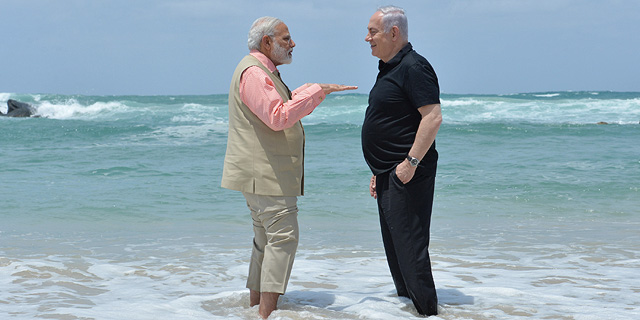 India-Israel Business Relations Carve New Paths
After decades of lukewarm ties, Indian-Israeli relations have shifted gears in recent years
After decades of lukewarm ties, Indian-Israeli relations have shifted gears in recent years. In July, Indian Prime Minister Narendra Modi went on a state visit to Israel, and Israel's Benjamin Netanyahu reciprocated with a visit of his own to India in January. Messrs. Modi and Netanyahu signed a slew of collaboration pacts, signaling a new era in the business ties between the countries. While, for now, export of Israeli arms makes up a significant part of the trade between the two countries, the new pacts signal a way forward which would see more sectors involved in India-Israel trade.
For daily updates, subscribe to our newsletter by clicking here.
Following are some of CTech's top stories unraveling the strengthening diplomatic and business ties between the two countries.
Netanyahu, Modi sign agreements to collaborate on cybersecurity, energy, film, and air transportation. The agreements were signed during Mr. Netanyahu's six-day visit to India in January. The Israeli and Indian governments have agreed to increase their collaboration on the research and production of oil and gas, to financially support Indian and Israeli joint ventures in the cinema industry, and to work together to improve air-transportation between the two countries. The two governments also agreed to collaborate in the field of cybersecurity by sharing technological advancements and executing joint training programs. Read more
Netanyahu announces plan for direct 5-hour flight route connecting Tel Aviv and Mumbai. In March, the first Israel-bound flight allowed to pass through Saudi airspace landed in Tel Aviv seven hours after taking off in New Delhi. Prior to the launch of the new route, the only direct flight connecting Israel and India was a 7-8.5-hour flight between Tel Aviv and Mumbai, operated by Israel's flag carrier El Al. Needing to avoid the Arabian Peninsula's airspace, El Al's detour over the Red Sea adds about two hours to the flight. Read more
Israeli national carrier petitions against Air India's direct flights to Tel Aviv through Saudi airspace. One week after Air India's first direct flight from New Delhi landed in Tel Aviv, Israel's flag carrier, El Al has filed an urgent petition to Israel's Supreme Court, demanding it receives the same flight permits as India's national carrier. Read more
TATA enters partnership with Israeli water generation company Water-Gen. TATA and Water-Gen will launch a joint water generation pilot in India. The companies signed an agreement during a state visit to India by Israeli Prime Minister Netanyahu. Read more
L&T launched a development outpost in Jerusalem. In November, the engineering service subsidiary of Indian-headquartered conglomerate Larsen & Toubro announced it is opening a development center in Jerusalem. Already employing 100 engineers and software developers in Jerusalem the company intends to hire 300 more, CEO Keshab Panda said. Read more
Kolkata-based real estate developer Ambuja Neotia reaches out to Israeli startups. In August, Ambuja Neotia Group extended an offer to Israeli startups to join its incubation program as a way to enter the Indian market. Called Neotechub, the incubator, located in Kolkata, offers startups funding and support services. It focuses on companies operating in domains including healthcare, education, hospitality, and real-estate.
Read more
Mumbai-headquartered Tech Mahindra rolls out startup collaboration program in Israel. In January, the information technology and consulting firm said it is looking to invest in 20 startups in the program's first year, across the domains of cybersecurity, mobility, artificial intelligence, fintech and data analytics. Read more
Where Israel-India collaboration can go. India is currently facing vast transformations in almost every field, and the future of the India-Israel commercial cooperation depends on addressing several mostly untapped issues, writes Devsena Mishra, the co-founder and director of DappsTech, a company promoting cybersecurity collaboration between India, the U.S. and Israel. According to Ms. Mishra domains ripe for collaborative efforts between the countries include electricity and smart mobility, digital health, clean and renewable energy, agriculture and food tech, and water management. Read more