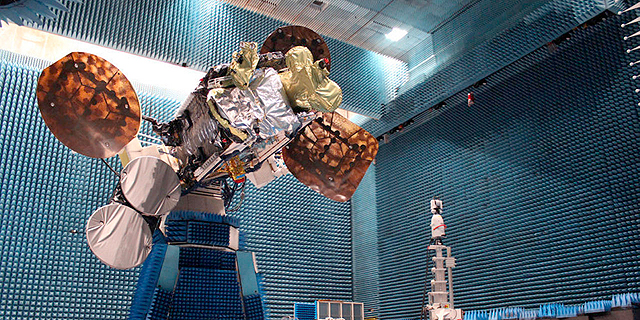 CTech's Tuesday Roundup of Israeli Tech News
IDB's bid for Israeli satellite operator Spacecom nearing closure. AstraZeneca signs deal with cancer immunotherapy company Compugen
IDB's bid for Israeli satellite operator Spacecom nearing closure. Last week, IDB made an offer for a controlling stake in Spacecom, offering $45.75 million for a 54.7% undiluted stake and an equity infusion of as much as $11.45 million. Now IDB has agreed to triple its initial offer, a person familiar with the deal told Calcalist on condition of anonymity.
Read more
Pharma company AstraZeneca signs deal with cancer immunotherapy company Compugen. Israel-based Compugen uses predictive technology to computationally identify and develop novel drug targets. Under the agreement, AstraZeneca's global biologics research and development arm will develop products from Compugen's pipeline, with a potential of over $200 million in milestones for Compugen. Read more
Read more
Smart cars will revolutionize real estate and other industries, says GM executive. Gil Golan, the director of General Motors' Israeli technology center, believes space will open up in large cities as multi-laned roads, parking spaces, and gas stations become obsolete.
Read more
Adtech company Perion receives notice from Nasdaq regarding stock value. For the fiscal year 2017, Perion reported GAAP net loss of $72.8 million. The company has been trading below Nasdaq's minimum bid price of $1.00 per share since February.
Read more
Israeli biotech company Algatech expands into Asia. Algatech bought a controlling stake in New Zealand-based microalgae cultivation company Supreme Health. The company did not disclose the financial terms of the deal nor the timeframe for its execution, but according to a spokesman, the purpose of the deal is for Algatech to use Supreme Health's existing marketing channels to launch its activity in Asia.
Read more
Cloud networking startup Meta Networks exits stealth, raises $10 million in Seed. Dubbed Meta NaaS, the company's system offers security measures to users both within the corporate network and on the internet. The system isolates each user's private data from the internet and the organizational network to reduce the chances of unauthorized access, a cyber attack, or a leak. Read more
3D printing company Stratasys announces spinoff. The Nasdaq-listed company announced on Tuesday the founding of Vulcan Labs, which was spun-off from Stratasys to focus on additive manufacturing for powder-bed fusion (PBF), a technique of 3D printing with metals and other conductive materials. Vulcan Labs is based on the 2014 acquisition of Harvest Technologies and is headquartered in Belton, Texas. Read more