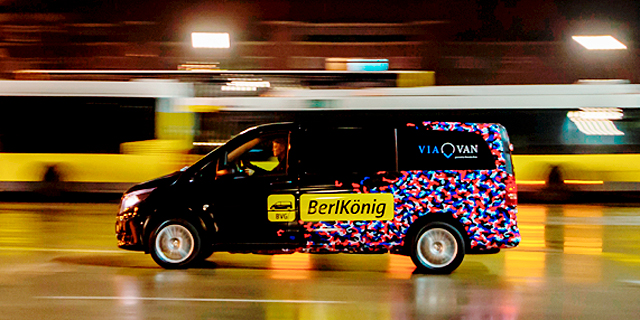 CTech's Wednesday Roundup of Israeli Tech News
Mercedes-Benz Vans and ridesharing company Via launch service in London. Rent24, a Germany-based provider of coworking space, is expanding to Israel and New York
Mercedes-Benz Vans and ridesharing company Via launch service in London. Passengers using Via's service can request rides through an app, and Via matches multiple passengers headed the same way with a single large SUV or van. Mercedes-Benz and Via announced the joint venture, which also included a $50 million investment in Via, in September 2017.
Read more
Rent24, a Germany-based provider of coworking space, is expanding to Israel and New York. The company plans to open up to seven new locations in Israel and one in New York in the coming months, says Rent24's chief executive.
Read more
Read more
ReWalk launches clinical trials for robotic physical rehab suit. The new product line, called "ReStore," is a soft-frame suit meant for stroke victims learning to regain motor skills in their lower limbs. The company has begun clinical trials.
Read more
Oracle co-CEO Safra Catz to visit Israel. Israel-born Ms. Catz, who was appointed to the role in 2014 and previously served as the company's chief financial officer, will hold a press conference during her visit and also meet with clients of Oracle's Israeli branch, a company spokesman said.
Read more
Two Israeli companies bring V2V communications to the race track. With cars duking it out at speeds that can reach over 200 miles per hour, the racetrack can be a dangerous place, and loss of control or malfunctions are always a possibility. Now two Israeli autotech companies are teaming up to bring vehicle-to-vehicle (V2V) communication to the racetrack and replace the well-known yellow caution flag with a more technological solution.
Read more
Liver treatment company Galmed is raising $6 million in direct offering. Israel-based Galmed is a clinical-stage company developing once-daily oral therapy for liver diseases. The company's stock fell 65.88% since its Nasdaq listing in March 2014, and 36.88% since the beginning of 2018, but was up 15.08% at Tuesday's market close following its announcement.
Read more