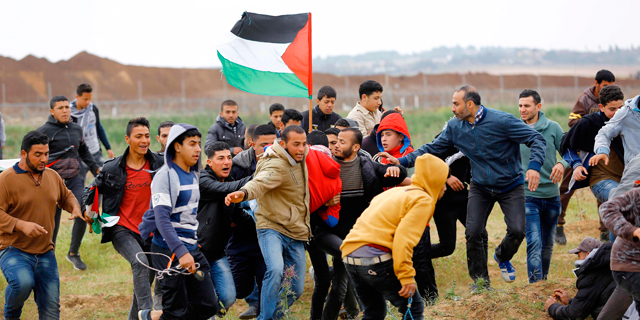 CTech's Weekly Roundup of Israeli Tech News
Beyond Intel's tick-tock model lies the Multi-Wave. Israel uses new crowd dispersal drones in Gaza
Beyond Intel's tick-tock model lies the Multi-Wave. Intel no longer adheres to its long-running development model dubbed "tick-tock," the company's platform engineering chief Amir Faintuch said in an interview. During "tick" cycles, Intel concentrated on developing manufacturing processes, increase transistor density and expand the capabilities, performance, and efficiency of existing microarchitectures. During "tock" cycle, Intel focused on developing new chip architectures. With the Multi-Wave model, the chip maker doubles down on creating multiple versions of each basic design.
Read more
Israel used drones to drop tear gas on Gaza protesters. On Friday, Israel's Border Police used drones to drop tear gas canisters onto crowds of Palestinian protest marchers in Gaza. An estimated 30,000 Palestinians participated in demonstrations near the Gaza-Israel border on Friday, in what was dubbed the "Great March of Return."
Read more
Facial recognition technologies move forward, not necessarily for the better. Facial recognition technologies can now go beyond mere identification and infer individual characteristics like sexual orientation or violent tendencies. Potential benefits in diverse domains including health and security may be outweighed by potential misuses and privacy infringements. Read more
Mercedes-Benz Vans and ridesharing company Via launch service in London. Passengers using Via's service can request rides through an app, and Via matches multiple passengers headed the same way with a single large SUV or van. Mercedes-Benz and Via announced the joint venture, which also included a $50 million investment in Via, in September 2017. Read more
Smart cars will revolutionize real estate and other industries, says GM executive. Gil Golan, the director of General Motors' Israeli technology center, believes space will open up in large cities as multi-laned roads, parking spaces, and gas stations become obsolete.
Read more
The parallel career paths of Apple's Johny Srouji and Tim Cook. Ten years ago, Mr. Cook took charge of a seemingly unglamorous aspect of Apple and drove the company to a dominant position in mobile phone. Mr. Srouji could be poised to do the same with Apple's new chip plans, writes Omer Kabir. Read more
The rise of streaming will raise video ad prices, says Verizon executive. The entrance of tech companies into what has traditionally been the domain of telecommunication companies has seen the prices of online broadcasting rights boom. Verizon intends to leverage the rise for targeted advertising, according to CTO P.P.S. Narayan.
Read more