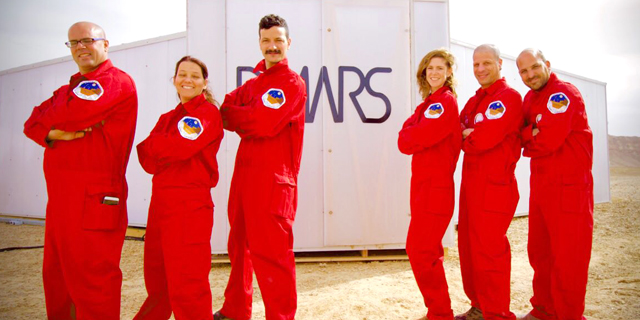 CTech's Tuesday Roundup of Israeli Tech News
The challenges of living on Mars: air, water, lack of personal space. Israeli lawmaker's Twitter account suspended after tweet saying Palestinian girl in custody should have been shot
The challenges of living on Mars: air, water, lack of personal space. Israeli designers of a closed habitat intended to simulate life on Mars, say cohabitation in a small space is one of the factors that must be addressed while planning a Mars dwelling. In February 2018, an Israeli group of scientists conducted a closed habitat experiment intended to simulate life on Mars. Called D-MARS, the habitat is located in the Ramon Crater, in the Israeli Negev desert, which bears some resemblance to the red planet in terms of geology, and aridity.
Read more
Read more
Israel allocates $5.6 million to set up tech workspaces in local Arab towns. Israel's Arab population has traditionally been excluded from the country's booming tech industry. The funds will be used to establish tech workspaces and improve roads in Arab towns.
Read more
As parent company heads to liquidation, control struggle at Israel's biggest telecommunications company continues. On Sunday, an Israeli district court judge ordered the liquidation of Eurocom, a parent company of Israeli telecommunication provider Bezeq.
Read more
Chinese soccer league teams to deploy automated video production and streaming technology. Jiangsu Suning Football Club is the first to acquire the technology by Israel-based startup Pixellot, which has signed a distribution deal with a Chinese sports media rights company.
Read more
Gambling software developer GAN opens Tel Aviv marketing agency. Headed by Meir Deutsch, a former executive at gambling company William Hill, the agency will provide digital user acquisition and retention services to GAN.
Read more
AI healthcare company Viz.ai receives FDA clearance for stroke detection technology. The FDA has cleared the company's image processing software to view and analyze CT scans for quick identification of stroke indicators. This is the second FDA approval for Viz.ai, after its computer-aided triage and notification platform to identify large vessel occlusion (LVO) strokes was cleared in February. In January, the company received the European CE Mark.
Read more
The skills that successful CEOs share with triathlon athletes. As a veteran venture capitalist and Ironman competitor, Boaz Dinte believes that running a successful company is much like competing in sports.
Read more