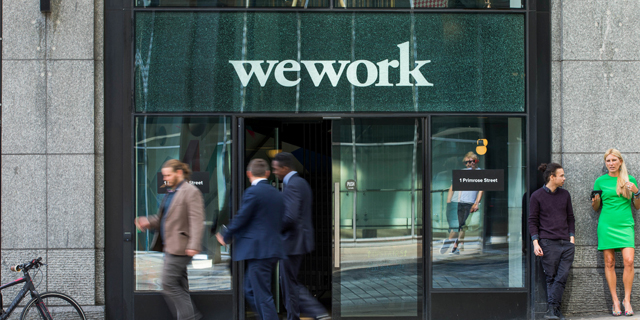 After Cold Shoulder from Israeli Investors, WeWork Turns to U.S. Bond Market
The coworking real estate company is aiming to raise half a billion dollars in an offering that is expected to open this week. Bond documents provide the first-ever glimpse into WeWork's financials
Oren Freund
|
17:14 25.04.2018
WeWork is planning to sell at least $500 million of bonds in an offering that could open as soon as Wednesday, Bloomberg reported, citing bond documents submitted by the company.
For daily updates, subscribe to our newsletter by clicking here.
Faced with junk bond ratings of BB- from Fitch and B+ from S&P, the New York-based provider of coworking space will be offering relatively high yields of up to 8%, according to Bloomberg.
The bond filing shows that WeWork will owe $5 billion in payments on those leases through 2022 and another $13 billion for 2023 and onward. Like other startups burning through cash as they grow at a rapid clip, WeWork revealed a riskier financial metric than debt investors typically accept. But the sheen of WeWork's brand and the higher than typical yields could sway the market. In Israel, WeWork found little luck. Even after the company offered investors who bought more than $50 million of bonds options to buy company equity at a $20 billion valuation, there were no takers.