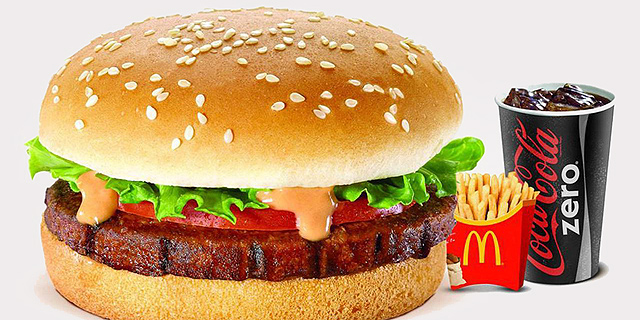 CTech's Weekly Roundup of Israeli Tech News
Printing the perfect burger from cellulose. The challenges of living on Mars. Japanese Prime Minister Shinzo Abe to Visit Israel
CTech
: 2018-04-27T08:51:39..
The goal: printing the perfect burger from cellulose. Israeli food tech company Chef-it is developing a machine that can instantly "print" food from a cartridge containing plant-based proteins, fats, and flavor components, and cellulose, a common fiber that can be manipulated into a variety of textures. Chef-it's technology uses infrared light to simultaneously cook the food as it prints. A current prototype can print a veggie burger in 10 minutes. Read more

General Electric and Roche weigh joint research plan in Israel and Finland. General Electric and Basel-based pharmaceutical company F. Hoffmann-La Roche AG are considering opening a joint subsidiary that will operate a research and development center, to be located either in Israel or in Finland. The World Economic Forum's global competitiveness report for 2017-2018 ranked Israel in third place for innovation and Finland fourth. Read more
to Visit Israel.
Mr. Abe is set to lead a Japanese business delegation to Israel. The Japanese prime minister last visited Israel in 2015.
Read more
Israeli lawmaker's Twitter account suspended after tweet saying Palestinian girl in custody should have been shot. Twitter suspended the account of right-wing Israeli lawmaker Bezalel Smotrich after he published a tweet saying a Palestinian 17-year old placed in custody for slapping and kicking Israeli soldiers should have been shot, "at least in her kneecap." Read more
BMW to use low-cost LiDAR developed by Israeli startup in upcoming autonomous vehicle. Innoviz develops and manufactures LiDAR imaging systems that are smaller and more affordable. BMW plans to use Innoviz's systems in its autonomous vehicles scheduled for release in 2021. Read more
The challenges of living on Mars: air, water, lack of personal space. Israeli designers of a closed habitat intended to simulate life on Mars, say cohabitation in a small space is one of the factors that must be addressed while planning a Mars dwelling. In February 2018, an Israeli group of scientists conducted a closed habitat experiment intended to simulate life on Mars. Called D-MARS, the habitat is located in the Ramon Crater, in the Israeli Negev desert, which bears some resemblance to the red planet in terms of geology, and aridity. Read more
Looking at the stars, researcher sees a legal Pandora's box opening. Current laws applying to space and other planets were formulated with people living on Earth in mind, says Israeli researcher Dov Greenbaum. Read more
Kids clothing subscription box startup Kidbox raises $15.3 million. Kidbox uses data science and machine learning to create customized clothes subscription boxes for kids across the U.S. Kidbox has over 1.2 million customers and has raised $28 million to date. Read more
Report downplays potential impact of cannabis exports on Israel's economy. Allowing the export of medical marijuana would generate far less revenue for the Israeli economy than previous projections have suggested, according to a new analysis by economic advisors to Israeli Prime Minister Benjamin Netanyahu. The question of exports has been the last unresolved issue since the Israeli government began reforming regulations against medical marijuana in 2016. Anticipating that final approval would come eventually, many Israeli farmers have sunk funds to buying land and building up infrastructure. Read more
For investors looking beyond daily market fluctuations, AI provides a compelling proposition. Michael Strobaek, a senior executive at Credit Suisse, reflects on the types of artificial intelligence-powered companies that offer the most promise. Read more
Three board members to leave distraught drugmaker Teva. One of the world's largest generic drugmakers, Teva has faced increasing difficulties the past two years, after its $40.5 billion acquisition of Allergan's generic business Actavis in 2016 led the company to take on $33.75 billion in loans just as the generic drug market was starting to experience its current difficulties. Two of the retiring members served as directors when the ill-fated Actavis acquisition was approved by the board. Read more