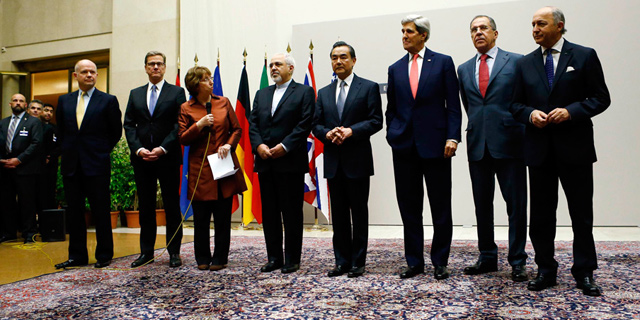 CTech's Sunday Roundup of Israeli Tech News
Trump aides hired Israeli spies to dig dirt on Iran deal negotiators, The Observer reports. Russian communication minister says Viber could be blocked, report says.
Trump aides hired Israeli spies to dig dirt on Iran deal negotiators, The Observer reports. The U.S. President has a week to decide the fate of 2015's nuclear deal with Iran. On Saturday, The Observer reported that Trump's team hired an Israeli private intelligence agency to collect discrediting information about Obama administration officials involved in the negotiations.
Read more
Read more
Coursera co-founder Daphne Koller launches new AI drug development startup. In February, Ms. Koller left her position as chief computing officer at Google's biotech company Calico.
Read more
Canadian billionaire who brought Giro d'Italia to Israel signals next target. On Saturday, thousands of spectators cheered at the sidelines as the riders of Giro d'Italia made their way onto the streets of Tel Aviv, on the second day of the tournament's three-day launch in Israel. The country's inclusion in this year's route would not have come into being, had it not been for Israeli-Canadian billionaire Sylvan Adams, who financed most of the tournament's Israeli segment, together with the Israeli government. His next target: setting up a sports research center in Israel.
Read more
When it comes to GDPR, partial compliance is better than no compliance. Lawyer and entrepreneur Zachi Zach outlines some of the ways companies can come closer to compliance with the new General Data Protection Regulation.
Read more
For adtech companies, environment is going to get worse. The internet caused consolidation in the traditional ad agency business. The same is currently happening in adtech, writes venture capitalist Michael Eisenberg.
Read more
Why we decided to invest in a crypto company for the first time. When it comes to money, it's all about trust. The same goes for cryptocurrencies, writes lool Ventures co-founder Yaniv Golan.
Read more
Armored car maker Plasan unveils ultralight armored vehicle. Plasan says the Yagu vehicle features a level of protection unprecedented for a such lightweight vehicle.
Read more
British ambassador leads British real estate companies to the Tel Aviv Stock Exchange. British real estate developer Lateral Property Group and investment firm Highgrove Group are looking to raise hundreds of millions of shekels through debt financing or equity raising in Israel. The British Ambassador to Israel, David Quarrey, is promoting the fundraising.
Read more