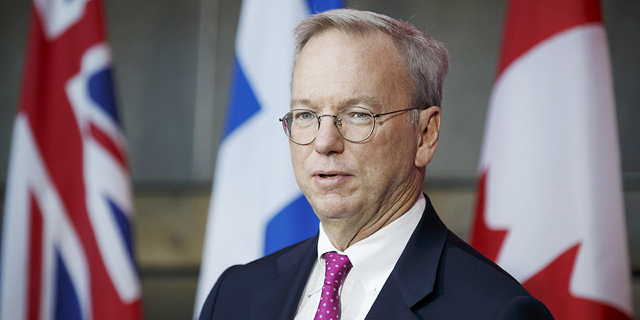 Former Google CEO Eric Schmidt to Visit Israel
Mr. Schmidt is a founding partner of venture capital firm Innovation Endeavors which has offices in Tel Aviv
Meir Orbach
|
10:13 14.05.2018
Former Google CEO Eric Schmidt will be arriving in Israel for a mostly private visit this weekend, one person familiar with the matter said in an interview with Calcalist speaking on conditions of anonymity.
For daily updates, subscribe to our newsletter by clicking here.
Mr. Schmidt, who visits Israel often, is a founding member and the main backer of venture capital firm Innovation Endeavors, which has offices in New York, Silicon Valley, and Tel Aviv.
Innovation Endeavors is also an investor in Tel Aviv-based cybersecurity startup foundry Team8 LLC. Co-founded in 2014 by CEO Nadav Zafrir, a former commander of the Israeli military's signal intelligence unit 8200, Team8 is backed by Microsoft, Cisco, Intel, and Singapore's governmental holding company Temasek. The company has launched several startups since its establishment.
Shortly after August's merger, Innovation Endeavors founding partner Yuval Shachar left the firm to join Team8 as partner. Innovation Endeavors partner Liat Aaronson, who came over from Marker following the merger, left the firm shortly after him.