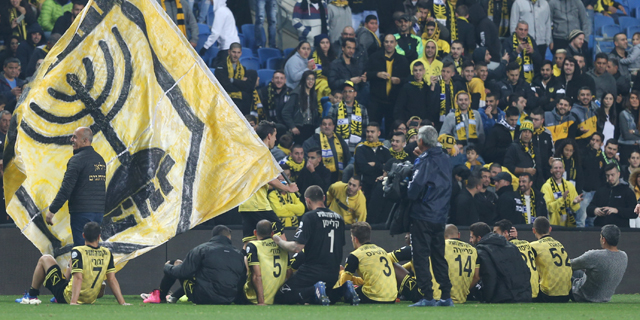 Jerusalem Soccer Club Plays "Trump" Card
Just one day before the inauguration of the U.S. embassy in Jerusalem, Beitar announced its intention to add the U.S. President's last name to its club name
Tofi Stoler
|
13:16 14.05.2018
Israeli soccer club Beitar Jerusalem Football Club plans to add U.S. President Donald Trump's last name to its team name, the club announced in a Facebook post on Sunday. If the change is carried out, the club will be known as Beitar Trump Jerusalem Football Club. The move comes as a tribute to Mr. Trump just one day before the inauguration ceremony of the new U.S. embassy in Jerusalem, scheduled for Monday afternoon.
For daily updates, subscribe to our newsletter by clicking here.
In December, Mr. Trump announced the planned move of the embassy from Tel Aviv, and officially stated the U.S. recognizes Jerusalem as the capital of Israel. Jerusalem is the seat of the Israeli Parliament and the country's supreme court and hosts the official residences of Israel's prime minister and president. Following Mr. Trump's speech, violent protests broke out in Israel and in the West Bank.
On several occasions, Beitar fans were known to chant racist slogans and engage in violent activity during games, especially against Israeli-Arab soccer club, Ihoud Bnei Sakhnin F.C. In January, following such an incident, Beitar was penalized by the IFA, and had to play a match in front of empty seats, and close a part of its stadium in four additional games. In 2013, Beitar recruited two Chechen Muslim players, sparking a protest among some fans, some going as far as boycotting the club, and holding protests calling for the team to remain "pure." A 2016 documentary film called "Forever Pure" documenting these events won three awards at the Jerusalem Film Festival of that year, as well as a nomination for the Gold Hugo award at the Chicago International Film Festival. In July, a Beitar fan was sentenced to 120 hours of community service after accepting a plea bargain for threatening the film's director, Maya Zinshtein.