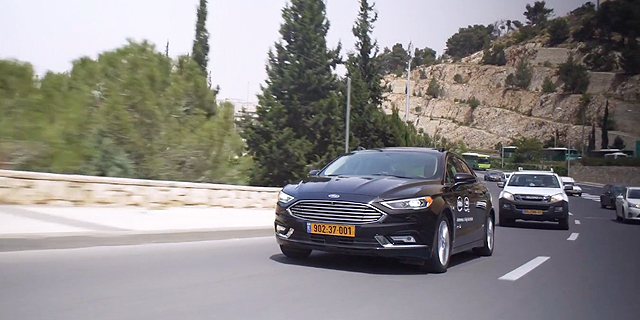 Israel Warns Mobileye its Drivers Are on the Hook for Violations Made by Self-Driving Cars
Two weeks ago, an Israeli broadcaster aired footage showing Mobileye's self-driving car running a red light in Jerusalem
Tomer Hadar
|
12:55 30.05.2018
Two weeks after Mobileye's self-driving car was documented running a red light in Jerusalem, Israel's Ministry of Transport informed the company that drivers may be held personally accountable for any traffic violation performed by the autonomous vehicle they are operating, one person working in the transportation ministry told Calcalist on condition of anonymity.
Mobileye declined to comment.
For daily updates, subscribe to our newsletter by clicking here.
According to Israeli regulations, test drivers operating self-driving cars must remain alert, avoid distractions and monitor the vehicle's performance at all times.
Mobileye's red light incident was taped and aired by Israeli broadcaster Channel Ten. No pedestrians or other vehicles were hurt as a result of the lapse, which Mobileye blamed on broadcasting equipment placed on the vehicle's roof.
Following the incident, Mobileye froze all experiments in Jerusalem pending an internal investigation, the results of which were submitted to the transportation ministry last week, a spokesperson for the ministry told Calcalist in an email. Mobileye also updated its systems to prevent the lapse from reoccurring, the spokesperson said.
In May, Calcalist reported that Mercedes-Benz is working to obtain regulatory approval to test its autonomous car on public roads in Israel later this year, citing people familiar with the matter. In October, Avner Flor, a senior executive at the Israeli Ministry of Transportation said in an interview with Calcalist the ministry intends to allow General Motors test its autonomous cars on public roads in the country.