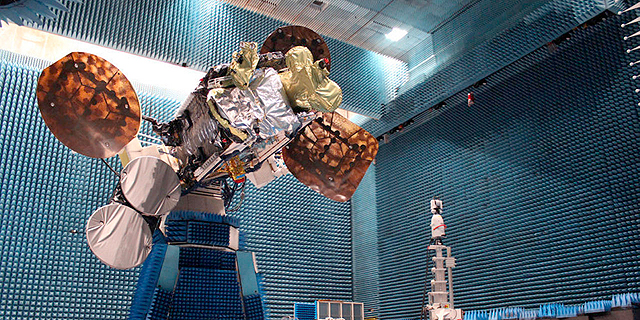 Brief
For the Second Time: Spacecom Postpones Deal With U.S. Satellite Manufacturer Loral
Spacecom announced in March it has contracted Loral to build its AMOS-8 satellite. In late May, the company postponed its down-payment by 30 days, after failing to make it within 60 days
Hezi Sternlicht
: 2018-06-25T11:54:27..
Israeli satellite operator Space Communication Ltd. has postponed, for the second time, the advance payment on its $112 million contract with a U.S. company to build its latest satellite, AMOS-8. In a filing with the Tel Aviv Stock Exchange on Sunday, Spacecom reported that the contracted company, Palo Alto, California-based Space Systems/Loral LLC, has agreed to defer payment until September 25. Spacecom already postponed the payment in late May for a 30-day period, but failed to meet the amended deadline. Paying the advance will constitute a binding entry into the production contract. Spacecom entered the agreement with Loral in March.
AMOS-8 is intended to replace AMOS-7, which has been leased by Spacecom for four years following the destruction of its previous satellite, AMOS-6, in a pre-launch explosion in 2016. AMOS-8 is Spacecom's eight contracted satellite, and only the third to not be manufactured by state-owned Israel Aerospace Industries Ltd. (IAI). In April, lacking the necessary funds to complete the AMOS-8 deal, Spacecom announced a plan to raise $110 million in bond options and collateral bonds. Later that month, Spacecom announced it has received a letter from a government official, informing the company that the state intends to "work towards placing a satellite by IAI" at the geostationary position intended for AMOS-8. Israel owns the position.