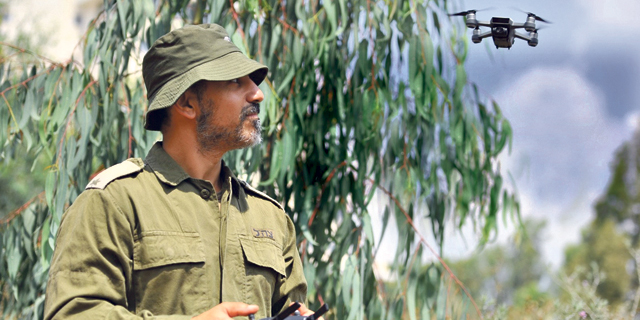 CTech's Sunday Roundup of Israeli Tech News
The Israeli military has big plans for small drones. Volkswagen sees blockchain-enabled cars in Its future.
The Israeli military has big plans for small drones. As kites, balloons, and helium-filled condoms sent by Hamas operatives across the Gaza border are setting Israeli farmland ablaze, Israeli military adopts low-cost drones manufactured by consumer-facing companies to tackle a host of defense challenges. While fighting the low-tech flying fire-bombs is only one of these challenges, the sharp contrast brings into a focus the asymmetry on the two sides.
Read more
Volkswagen sees blockchain-enabled cars in Its future. Volkswagen's vision for the future includes autonomous cars that carry out transactions on behalf of their owners using cryptocurrency wallets, the carmaker's head of blockchain said on Wednesday in Tel Aviv. Read more
Opinion: A spotlight on Israeli adtech. AdTech has become a bit of a dirty word for venture capitalists, but Israeli advertising innovation still has an edge, writes venture capitalist Eze Vidra.
Read more
Fourth time's the charm for Entera Bio IPO. The Israel-based oral drug developer listed on Nasdaq on Thursday, pricing 1.4 million units of one share and one warrant at $8 each.
Read more
Marine data company Windward raises $16.5 million. Tel Aviv-headquartered Windward analyzes marine data to provide customers with insights about ship movements, transports, and risks. Read more
Opinion: How Blockchain technology can revive online journalism. Blockchain micropayments can provide alternative revenue channels for publishers, write advocates Yair Geva and Ofer Toledano.
Read more
Israeli billionaire Idan Ofer acquires Portuguese second league soccer club. Ofer, who also owns a 32% stake in Spanish soccer team Atlético, intends to purchase players from former Portuguese protectorates, train them at the team's youth leagues and then sell them to big European teams.
Read more
News Briefs
Customer engagement company Totango buys machine learning company Personity.ai.
Read more
German automotive cameras developer ZF partners with Mobileye on car safety cameras.
Read more
Social video company IMGN media raises $3 million.
Read more
Israeli coworking real estate company Mindspace to open three locations in Romania.
Read more
Chairman of digital marketing company Matomy Media steps down.
Read more