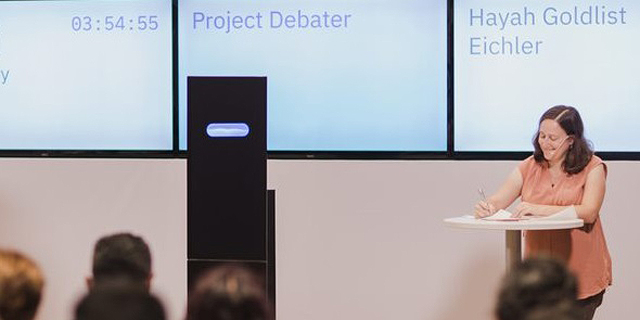 CTech's Wednesday Roundup of Israeli Tech News
In second AI-human showdown, IBM's Debater outwitted. Direct radio contact with stranded Thai group still unattained, Israeli technology vendor says
In second AI-human showdown, IBM's Debater outwitted. In June, IBM unveiled a project six years in the making—an artificial intelligence system called Project Debater that draws on extensive data to construct logical, convincing arguments. During the event, held in IBM offices in San Francisco, the AI took on two human debaters. In both cases the audience thought it to be worse at delivery, but better at conveying knowledge, awarding it the win in the second debate. On Tuesday, IBM held a second event, showcasing the system to a crowd of journalists in Israel. This time the AI fared slightly worse.
Read more
Direct radio contact with stranded Thai group still unattained, Israeli technology vendor says. Rescuers are unable to establish direct radio contact with stranded Thai boys, according to an Israeli technology vendor who supplied the devices used to communicate in the labyrinthine underground tunnels. Extension of the communication line is far from being complete, and the deployment of physical cables is tough due to narrow underwater passageways barely wide enough to allow a person through.
Read more
The Israeli one billion dollar club—a defining moment for the Israeli VCs. As investments rounds keep on getting bigger in the Israeli tech scene, venture capitalist Ziv Kop outlines the challenges the local industry is facing.
Read more
Israel Security Agency, Tel Aviv University venture arm announce first accelerator cohort. Seven startups in the domains of artificial intelligence, natural language processing technologies, data science and robotics were chosen for the first cohort of the program.
Read more
News Briefs Automaker SEAT says it is considering eight partnership opportunities in Israel.
Read more
Commercial insurance startup Planck Re raises $12 million.
Read more
Israeli military's Unit 8200 to collaborate with food-tech accelerator.
Read more
Localize.city partners with New York real estate sites.
Read more
Three Portfolio Companies of Len Blavatnik's Clal Biotechnology Raise Cash in One Week.
Read more
Israel's Eurovision win threatened by IP lawsuit.
Read more