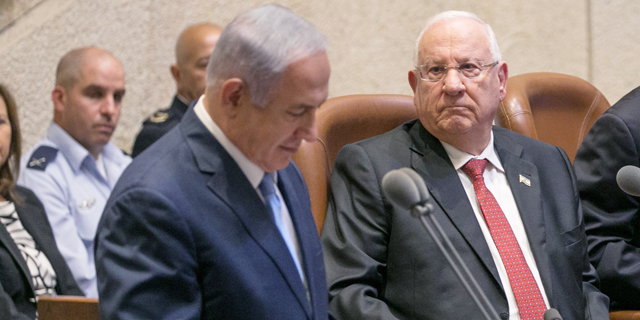 Israeli President Rivlin Says He Will Protest Controversial State Law by Signing it in Arabic
In a Monday meeting, the Israeli ceremonial head of state said he must sign the bill or resign
Lilach Baumer
|
17:19 31.07.2018
Israeli president Reuven Rivlin said Monday he would sign a controversial law defining Israel as the national home of the Jewish people but will do so only in Arabic. Rivlin commented on the law which passed in the Israeli parliament earlier this month in a meeting with Collective Impact, an initiative established to promote Arab employment in Israel.
For daily updates, subscribe to our newsletter by clicking here.
The law, which passed with 62 out of 120 parliament members voting for, establishes the Jewish calendar as the official calendar and demotes the Arab language from a state official language to a "special" language.
The legislation was followed by harsh international and internal criticism, for blatantly discriminating against Israel's non-Jewish population.
The bill set off unusual tensions among the Israeli Druze community, which has a unique and distinct ethnic stature among Israel's Arab-speaking minorities. Israeli Druze are one of two non-Jewish minority drafted into the Israeli military (Circassians are the other group), and many Druze soldiers remain in the army as career soldiers and attain high ranks. Until 2015, the Israeli military had an official Druze battalion, which has been disbanded as more and more Druze choose to serve in other units. In an interview with Israeli news outlet Ynet, former Israeli brigadier general Imad Fares said that the community regards the mandatory army service their duty as citizens, but expects to receive the same rights in return. "Why must we be hurt, again and again, just to test our loyalty to the country?" he said. Many other retired Druze soldiers joined a forum established last week to overturn the law. On Tuesday, two Druze officers announced their retirement from the Israeli army, following the new legislation.