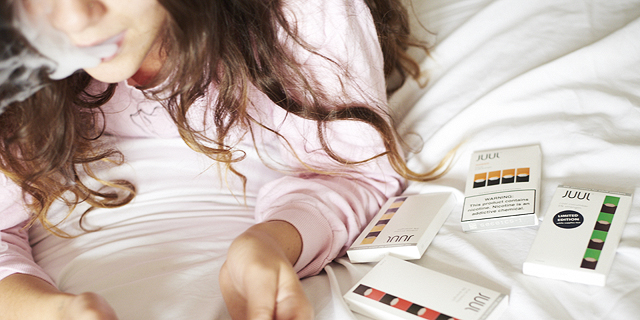 CTech's Weekly Roundup of Israeli Tech News
Israel expected to ban marketing of e-cigarette Juul. Teva's American dream boat is sinking.
CTech
: 2018-08-10T08:09:12..
Israel expected to ban marketing of e-cigarette Juul. Currently selling its products in only two countries outside of the U.S., Juul started operating in Israel in May.
Read more
Teva's American dream boat is sinking. Over the past six quarters Teva's North American sales have been in free fall. The company's operating profit is in even worse shape. In July, pharmaceutical company Mylan decided to slash the price tag on its generic version of Teva's flag product Copaxone, further threatening Teva's revenues, meaning the company must hurry to provide three potential trump cards it has up its sleeve. Read more
Read more
Opinion | Talent crunch threatens the continued growth of Israeli tech. The accomplishments of the Israeli tech industry mask the fact that Israel's main growth engine, its tech industry, is slowing down, writes Aharon Aharon, the director of Israel's government innovation investment arm.
Read more
Regulator hopes to pave the way for newcomers in Israel's rigid financial services market. On Monday, Israel's central bank and Ministry of Finance announced they are working to establish open banking standards in the country.
Read more
Amazon could be translating Kindle to Hebrew and Arabic. The e-commerce giant is looking to hire a UX designer for its Kindle division who is fluent and has experience designing for right-to-left reading languages such as Arabic and Hebrew.
Read more
Otto Co-Founder Lior Ron returns to Uber to lead Uber Freight. Ron joined Uber after the ride-sharing company bought autonomous truck startup Otto. He led the Uber Freight program until he left the company in March.
Read more
Web personalization company Dynamic Yield raises $32 million. The company's service uses machine learning algorithms to help marketers tailor their website to match individual consumers according to their behavioral patterns.
Read more
Citing stable economic outlook, S&P gives Israel its highest credit rating ever. On Friday, Standard & Poor's Global upgraded Israel's credit rating to AA- with a stable outlook, the highest rating awarded to the country to date, citing Israel's "exceptionally strong economic performance'" and stable economic outlook.
Read more