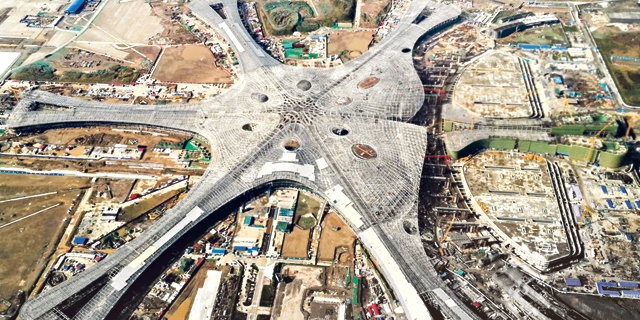 Building an Airport for China's Future Mega-City
At the construction site of Beijing's future main airport, huge slabs of concrete are falling out of the sky to harden the ground in preparation for the planes to come
Ofir Dor
|
17:27 21.08.2018
A narrow, winding road which cuts through dusty villages and unkempt fields connects Beijing with what is soon to be the world's largest airport, less than an hour's drive away. A new highway is also under works, one of seven highways to run to the behemoth airport, as is a 160-kilometers-per-hour underground train that will cut travel time from the city down to 19 short minutes.
For daily updates, subscribe to our newsletter by clicking here.
Beijing already has a functioning airport, of course. A decade ago, ahead of the 2008 Summer Olympic games hosted in the city, the Chinese government expanded the Beijing Capital International Airport with a $3.6 billion investment. Now, rising income and socio-economic standards and the growth in tourism have burdened the airport to the point where delays are routine and new flights can no longer be accepted. Today, Beijing Capital is the second largest airport in the world in term of volume of passengers (after the Hartsfield–Jackson Atlanta International Airport). In 2017, 95.8 million people traveled to or from it, much more than its designated annual capacity of 76 million passengers.