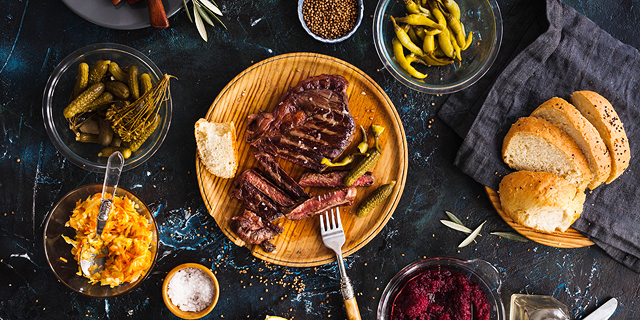 Bundle
Buyers, Investors Gobble Up Israeli Foodtech
From the acquisitions of SodaStream and Frutarom to startups developing alternative protein sources and a vegan crypto coin, here are some of CTech's most popular food-related stories
Tofi Stoler
|
08:16 23.08.2018
PepsiCo Inc.'s Monday announcement of its acquisition of Israeli home water carbonator company SodaStream International Ltd. for $3.2 billion drew attention to Israel's food and drink industry. In May, Israel-headquartered flavor and fragrance company Frutarom Industries Ltd. was acquired by NYSE-listed Flavors & Fragrances Inc. (IFF) for $7.1 billion. Israeli foodtech startups are also gaining attention from investors, both local and international, with companies working on anything from artificial meat and alternative protein sources to vacuum sealed pizza and a vegan crypto coin.
For daily updates, subscribe to our newsletter by clicking here.
Bellow are some of CTech's most popular food and foodtech stories, highlighting the trends and success stories of the Israeli industry in the first eight months of 2018.
Interview | Under PepsiCo, SodaStream's marketing-savvy CEO says he is not going to pipe down. Once the target of SodaStream's marketing barbs, PepsiCo announced it will acquire the Israeli outfit Monday. In an interview with Calcalist SodaStream's CEO said he has no intention to start playing nice. Read more
Read more
This startup promises to keep pizza fresh for eight weeks. Israel-based startup Timeless Foods makes firm disposable plastic containers for vacuum packaging of delicate foods.
Read more
IFF to acquire Frutarom for $7.1 billion. The U.S.-based flavor and fragrance company will pay 67% in cash and 33% in stock for the Israel-headquartered company.
Read more
Futuristic pod-to-meal startup raises $10 million. Israeli foodtech startup Genie develops "ovens" it says can cook a pod of freeze-dried foodstuff into a restaurant-grade meal in 2-3 minutes.
Read more
Read more
Lab-grown meat startup SuperMeat raises $3 million. The company aims to bring edible lab-grown poultry meat to the market within three years.
Read more
Israeli rabbi says lab-grown pork meat is Kosher. Abstinence from eating pork is a pinnacle of Jewish religious dietary laws, which also prohibit the consumption of meat and dairy together.
Read more
Read more
Vegan startup launches "cruelty-free" digital coin. The company describes itself as a global decentralized vegan "nation" based on blockchain technology. A national vegan flag is in the works, according to a company spokesman.
Read more
Read more
Nutritional data startup Nutrino raises $8 million. Israel-based Nutrino collects and analyzes nutritional data and operates a database used by food, fitness, and digital health companies.
Read more