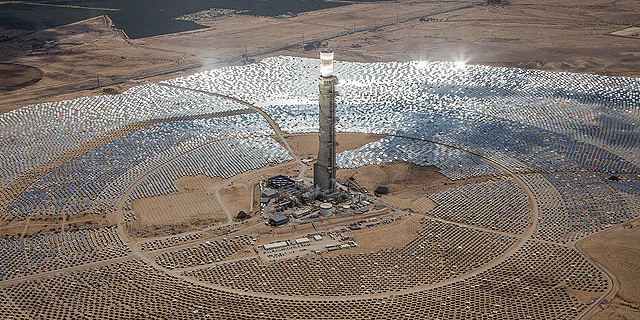 List
CTech's Summer Hits
Over the past months, we have delved into stories illustrating the intricacies of life in Israel. Some have gone directly to the top of our most popular stories list
Orr Hirschauge
: 2018-09-09T08:22:50..
Israel is more than just its politics and more than just its tech. Over the past months, some of our most popular stories have delved into the intricacies of life in the country. As summer ends (elsewhere in the world), we present our top in-depth articles illustrating the day-to-day life and culture of the hot-tempered country and its people.
In Jaffa, luxury hotel built on crusaders era ruins draws social ire. The sprawling lobby of the newly opened Tel Aviv luxury hotel, The Jaffa, is divided by a 13th-century wall. A historic chapel was turned into a bar. Read more
People are calling this 240-meter solar tower "The Eye of Sauron." The tower is part of a 121-megawatt solar thermal power plant located in Israel's Negev Desert.
Read more
A country made of plastic: Israel's addiction to disposable tableware. As countries worldwide attempt to reduce plastic consumption, in Israel demand for disposable tableware is on the rise. Read more
Hit commercial song jabs Israelis (almost) everywhere it hurts. A commercial for Israeli satellite television provider Yes has gone viral in Israel, topping the country's radio playlists. Read more
The Israeli military has big plans for small drones. The Israeli military continuously increases use of off-the-shelf machines manufactured by the likes of DJI and Israeli Aeronautics. Read more
Israel's Rick's Café for Russian Jewish oligarchs. With Roman Abramovich as patron and dishes including caviar and hummus, "Shallot" is the stronghold of Israel's newest super-rich. Read more
Small-time Israeli real estate investors see golden opportunity in Greek market. Real estate prices in Greece dropped by as much as 40% in the last decade due to a prolonged economic crisis in the country. Read more
Cayman Islands is Israel's third largest source of foreign investment. Use of the offshore financial haven masks the true origin of money pouring into Israel's tech sector. Read more
Interview | Why Israel stopped all attempts by Chinese companies to buy local insurers. Israel's departing head of capital markets regulation tells Calcalist she had no intention of letting any government-affiliated buyer, Chinese or not, take over Israeli insurers. Read more
Israeli students ditch humanities, enroll in STEM degrees. Between 2013 and 2017 the number of students signing up for computer science and math degrees in Israel has gone up 28%, new data reveals. Read more
In Tel Aviv mayoral race, young opposition contests well-entrenched veteran. Deputy mayor for the past ten years Asaf Zamir and comedian turned entrepreneur Assaf Harel plan to take on former fighter pilot and mayor of Tel Aviv for the past 20 years Ron Huldai. Read more