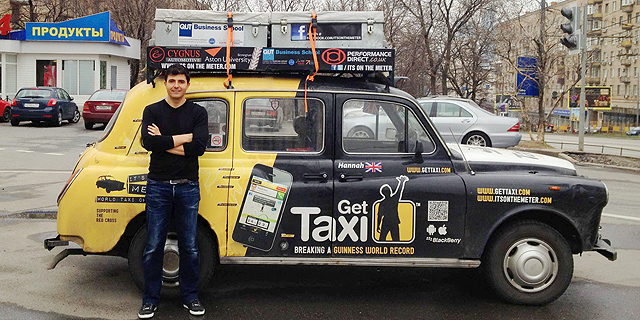 CTech's Wednesday Roundup of Israeli Tech News
In face of cash-heavy competitors, Gett CEO touts margins; Israel Aerospace Industries inks partnership to build a janitor space vehicle
CTech
: 2018-09-12T17:58:35..
In face of cash-heavy competitors, Gett CEO touts margins. Gett will be the first and only ride-hailing company to reach profitability in 2019, Gett co-founder and CEO Shahar Waiser told Calcalist in an August interview. Gett's overall equity funding stands at $700 million, a sum dwarfed by the funding raised by some of its competitors.
Read more
Read more
Business intelligence startup Sisense raises $80 million. In the past year, the company also raised a previously unannounced sum of $20 million, bringing its overall equity funding to $200 million.
Read more
WeWork's Adam Neumann invests in stock option marketplace EquityBee. Tel Aviv-based EquityBee develops a marketplace where startup employees can find investors to help them exercise stock options.
Read more
Automated broadcasting company Pixellot raises $30 million. Israel-based Pixellot develops automated production and broadcasting technologies that provide live, multi-angled, panoramic HD broadcast of sporting events.
Read more
Tired of looking for parking, Israeli entrepreneurs develop a foldable car. When folded, up to five City Transformer vehicles can fit into a single parking space.
Read more
Opinion | Solving the last 50 floors challenge. Venture capitalist Michael Eisenberg has an elevators pitch for you: he thinks elevators are the next frontier of mobility.
Read more
Playtech offloads stake in trading firm Plus500. The online gambling company bought a 10% stake in London-listed Plus500 in 2015 as part of an attempt to acquire the then-struggling company.
Read more
NSO-connected investment firm bolsters team. Founders Group was established in 2013 by NSO's founders Omri Lavie and Shalev Hulio and venture capitalist Isaac Zack.
Read more
Opinion | Data is the new gold. in Today's Surveillance Capitalism We leak information wherever we go, and companies from Google to Fitbit are working to monetize it.
Read more
Tel Aviv University develops bat-like autonomous terrestrial robot. Dubbed "Robat," the machine relies solely on echos and sounds to maneuver through and map environments, without requiring visual input, which makes it suitable for functioning in dark surroundings.
Read more
Mercedes, ridesharing company Via bring van shuttle service to Berlin. Operated in partnership with Berlin's public transportation authority BVG, the service currently covers about half the city on Friday and Saturday nights. It will gradually expand to the entire municipality, with 300 vehicles operating throughout the week.
Read more
Israel's population on track to reach 10 million in 2024. Israel's fertility rate of 3.11 per woman is the highest rate among OECD countries.
Read more