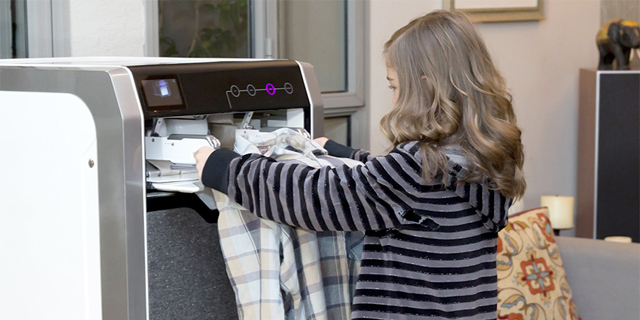 Video
Drowning in Laundry? This Robot Will Fold Your Clothes
California-headquartered startup FoldiMate develops a clothes-folding robot capable of processing pillowcases, towels, shirts, and pants ranging from the size of a six-year-old to XXL sizes
Tofi Stoler
|
08:42 28.09.2018
You are back from a long day at work. The house is a mess and the kids did not even get their homework done, not to mention any chores. You step into the bedroom for a quick power-nap before attending to the house. Then, just before your head hits the pillow, you notice the giant pile of laundry you took out of the drier in the morning is still waiting on the bed to be folded. In comes FoldiMate Inc., a Sunnyvale, California-headquartered startup founded in 2012 that set out to eliminate everyone's least favorite chore—folding clothes.
For daily updates, subscribe to our newsletter by clicking here.
Just over the size of a home washing machine, FoldiMate's robot is capable of folding an entire laundry load of roughly 40 items in under four minutes, Debbie Cohen-Abravanel, chief marketing officer for FoldiMate said in a phone interview with Calcalist Thursday. A human operator must manually place each item separately onto a special tray and the machine automatically retrieves and folds it, making way for the next item. The machine is capable of processing pants and shirts of all types including buttoned down collar shirts, ranging from the size of a six-year-old child to XXL sizes. Pillowcases and towels are also acceptable, but the machine is not suitable for baby clothes, socks, underwear, or large linens.