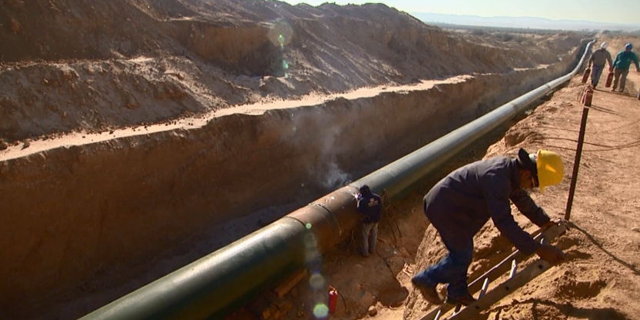 EAPC, Once Joint Israeli-Iranian Pipeline Venture, Stands to Make Bank from Egyptian Gas
Last week, Israeli gas developers Delek and Noble Energy and their Egyptian partner East Gas Co. signed a $518 million deal for a 39% stake in a pipeline connecting Israel and Egypt
Lior Gutman
|
12:25 02.10.2018
Eilat Ashkelon Pipeline Company Ltd. (EAPC), once a joint Israeli-Iranian venture that was nationalized by Israel following the 1979 Iranian revolution, stands to make large bucks from a recently signed Israeli-Egyptian gas deal.
For daily updates, subscribe to our newsletter by clicking here.
Last week, Israeli gas developers Delek Drilling LP and Noble Energy Inc. and their Egyptian partner The Egyptian Natural Gas Holding Company (EGAS) signed a $518 million deal for a 39% stake in a pipeline connecting Israel and Egypt, giving them exclusive rights to use and lease the pipe. The Israel-Egypt pipeline, owned by Eastern Mediterranean Gas Co. (EMG), connects southern Israeli city Ashkelon and the Sinai peninsula. It was used to stream Egyptian gas to Israel between 2008 and 2011, when a series of sabotage explosions conducted during the Arab Spring led to it being shut down. The pipe's Israeli endpoint, as well as the gate valve that controls the gas flow from the Israeli side, are on EAPC land.
Both EAPC and Delek declined to comment.
EAPC was founded in 1968 when Egypt was blocking the passage of Israel-bound ships through the Suez Canal, with the Israeli and Iranian government each owning half. Following the nationalization, the company diversified from its original purpose of ferrying Iranian gas through Israel into oil storage and distillates production for both Israel and global markets. As Israel never compensated the new Iranian regime for its share, the matter has been tied up in litigation for years.
EAPC's earnings over the next ten years will be determined by the amount of gas moved through the pipes. Delek and Noble are the majority shareholders of two of Israel's largest natural gas fields, Leviathan and Tamar, and have two export deals worth $15 billion in total with Egyptian company Dolphinus Holdings Ltd. The first, for Leviathan, is set to start exporting in December 2019. The second, for Tamar, which has been active since 2013, is set to start exporting in early or mid-2019. But as Tamar is bound by contracts to the Israeli market, it would only be able to export surplus, at least until a new contract could be negotiated in 2021.
Work to repair the Israeli side of EMG's pipe is already underway.