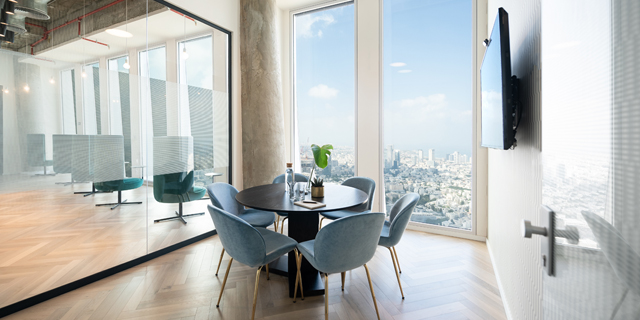 Coworking Spaces Attract Large Enterprises, Not Only Startups
Large enterprises are integrating coworking spaces into their business strategy, according to research published by The Harvard Business Review
Sponsored by LABS TLV
|
13:22 11.10.2018
Coworking spaces are catching on with large enterprises. Companies like Microsoft and major banks now see coworking sites, many of which were originally designed to cater to startups and young entrepreneurs, as an environment of innovation, flexibility, entrepreneurship, and cooperation.
An innovative work environment fosters greater employee job satisfaction.
Increased job satisfaction
A study by researchers at the University of Michigan Business School which was published by The Harvard Business Review examined why employees in coworking spaces reported higher levels of satisfaction. The reasons found: a greater significance assigned by employees in coworking spaces to their work; a enhanced sense of identity arising from a diverse work environment; a greater sense of being true to oneself, stemming from lack of internal competition and office politics; mutual assistance; a greater ability to work independently and greater control over ones time.
Finally, one of the main reasons for enhanced employee satisfaction was found to be their ability to create connections with others, at a level and scale of their choosing. According to the researchers, a clearly structured and well-defined work allowed employees to keep to a routine, and maintain discipline. Finally, one of the main reasons for enhanced employee satisfaction is their ability to create connections with others, at a level and scale of their choosing.
Sparking new ideas
"Spending time outside of the office in coworking spaces can spark new ideas," according to the researchers. Despite the fact that coworking spaces are mainly associated with freelancers, entrepreneurs and employees in the high-tech community, the implications of the research findings are more and more relevant to a broader range of people and organizations, according to the study. The researchers found that work in co-working spaces can become part of the strategy of every large organization, helping the organization and its people thrive. Coworking spaces can provide larger companies the flexibility to grow their team, a potential to recruit local talent, and saves the need for a lengthy setup by offering plug & play facilities. According to the study, for several months the innovation team of Japanese tech giant Ricoh worked in a co-working space in Santa Cruz. The team was able to develop several new products for coworking colleagues from other companies based on observation on and feedback about their day-to-day needs. One product, which provides a solution for paperless meetings, was even subsequently launched globally.
LABS TLV
Located on the top five floors of Tel Aviv's Azrieli Sarona building, Israel's tallest tower, LABS TLV offers a unique approach to shared working space: the offices are both impressive and inspiring with a stunning view of the city that never sleeps.
LABS TLV offers offices that suit the needs of companies in all stages and of all sizes. Members include Booking.com, ZooZ, and LivePerson.
A state-of-the-art, easily accessible complex located a short walking distance from the Hashalom railway station, LABS TLV was planned and designed to improve productivity, creativity, and growth for both businesses and their employees.
The publication of this article was sponsored by LABS TLV.