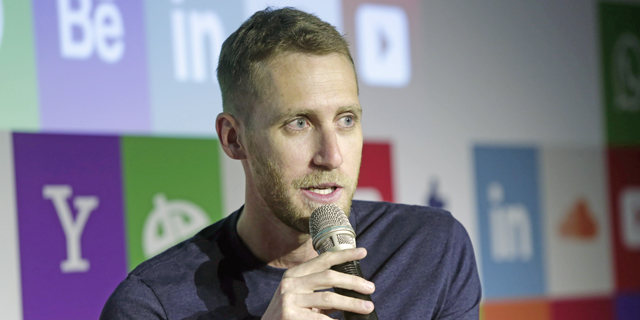 INSPIRE
Israeli Tech Sector Lacks Diversity , Says General Manager of Microsoft's Local Outpost
Assaf Rappaport, general manager of Microsoft Israel, spoke on Monday at Calcalist's eighth annual digital and mobile conference
Adi Pick
|
17:13 29.10.2018
Microsoft is undergoing a cultural shift in many aspects, according to Assaf Rappaport, general manager of Microsoft's research and development operations in Israel. The company is aiming to increase the percentage of under-represented minorities in Israel, such as women and Arabs, he said. The company opened offices in many cities in the country to suit employees' differing needs, Rappaport said, noting that the company's recent move into a WeWork builiding in Tel Aviv was aimed to accommodate employees who want to use alternative transportation modes like electric scooters to get to work in the city.
For daily updates, subscribe to our newsletter by clicking here.
Rappaport spoke Monday at Calcalist's eighth annual digital and mobile conference INSPIRE Digital@Mobile. The conference was held in Tel Aviv in collaboration with Bank Hapoalim, Israel's largest bank. This year's conference focused on the interface between the physical and the digital worlds, and on the ways in which technology is changing human interactions, social fabrics, and the human psyche.
Simply hiring women and people of color is not enough, Rappaport said. Under-represented groups also need to be promoted. "If women are not promoted, they will not come," he said. Gender and cultural diversity is a business necessity, Rappaport said, as diverse teams work better, are innovative and create better products.
Only 10.5% of all startup founders established in Israel since 2014 are women, according to Start-Up Nation Central (SNC), a Tel Aviv-based non-profit organization.
Several years ago, Microsoft opened a research and development center in the northern Israeli city of Nazareth. Following the establishment of the center, Rappoport said, the number of job applications Microsoft gets in Israel from Arab candidates increased.
Rappaport mentioned that he used to work in Californian city Palo Alto, and upon his return to Israel Microsoft gave him a MAC computer, which he thought was aberrant and represented the company's new spirit. He soon switched back to his Surface Pro.