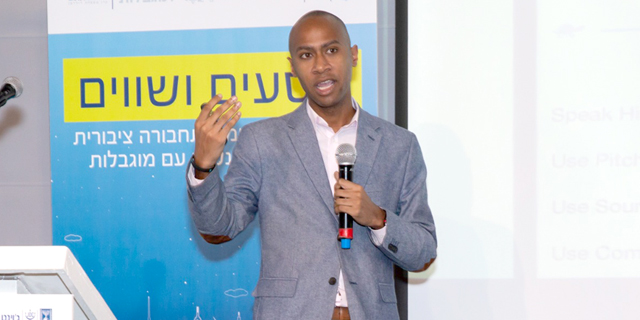 Want to Learn Sign Language? Take an Uber
After it was criticized and sued by disability advocates for failing to meet accessibility standards, rideshare company Uber is working to become more inclusive, according to Malcom Glenn, Uber's head of global policy, accessibility and underserved communities
Adi Pick
|
14:23 05.12.2018
After it was criticized and sued by disability advocates for failing to meet accessibility standards, multinational rideshare company Uber is working to become more inclusive, according to Malcom Glenn, Uber's head of global policy, accessibility,and underserved communities.
For daily updates, subscribe to our newsletter by clicking here.
Glenn spoke Tuesday at a conference on transportation and disability in Tel Aviv.
On Tuesday, New York City officials voted to set the U.S.' first minimum pay rate for app-based drivers. The rate is set at $17.22 per hour after expenses, or $26.51 gross per hour, but it was mandated that drivers of wheelchair accessible vehicles will earn a higher wage.
In November, Uber announced it teamed up with U.S.-based MV Transportation, a national third-party transportation provider, to bring MV's fleet of drivers and hundreds of wheelchair accessible vehicles (WAV) to the Uber app in six cities in North America. These cities, which include Chicago and Toronto, make up over 50% of Uber's rides, Glenn stated. With this new partnership, Uber riders in wheelchairs will be picked up by a WAV in 15 minutes or less on average, according to the company's website.
The company also works with third-party cab companies who provide wheelchair accessible vehicles to rent or lease, he said. It does so in cities including London, Washington, D.C., and Bangalore, India, the newest addition to the program, according to Glenn. Disability advocates say that scarcity remains an issue, despite these agreements. Uber now teaches basic sign language through its app to riders who get picked up by a hard-of-hearing driver, Glenn said Tuesday. Additionally, instead of making a sound notification for a trip request or for driving directions, the app will start flashing and vibrating to make it compatible for hard-of-hearing drivers. Uber now lets its drivers self-identify as deaf or hard-of-hearing on the app.
Tuesday's conference was organized by Israel-Unlimited, which was established as a partnership between non-profit JDC Israel, the Israeli government, and the Ruderman Family Foundation.