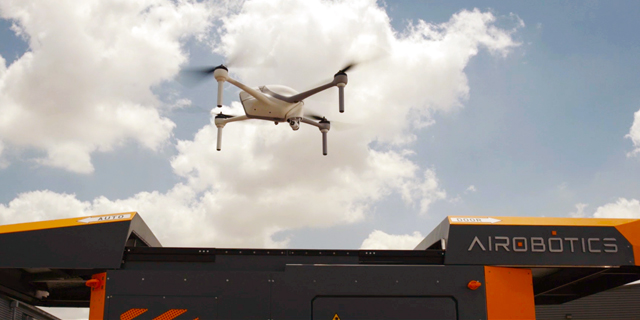 CTech's Wednesday Roundup of Israeli Tech News
CEO of automated drones company Airobotics draws the line at airborne firearms; In Tel Aviv, thousands protested violence against women
CTech
: 2018-12-05T17:47:55..
CEO of automated drones company Airobotics draws the line at airborne firearms. Israel-founded startup Airobotics aims to move beyond security details in factories, mines, and refineries, and secure the U.S.-Mexico border, says CEO.
Read more
In Tel Aviv, thousands protested violence against women. In a culmination of what civil organizers called a national day of rage, thousands demonstrated in front of the Tel Aviv City Hall Tuesday night against the rising violence targeting women in Israel.
Read more
Read more
Want to learn sign language? Take an Uber. After it was criticized and sued by disability advocates for failing to meet accessibility standards, rideshare company Uber is working to become more inclusive, according to Malcom Glenn, Uber's head of global policy, accessibility and underserved communities.
Read more
Yandex's Yango Taxi hits Israel's roads. The company, which uploaded its Hebrew-language app to Google and Apple's stores last week, wants to challenge local market leader Gett.
Read more
Israeli Tax Authority cracks down on unreported crypto earnings. In the last two weeks, the authority unilaterally opened tax accounts for hundreds of Israelis identified as having cryptocurrency related revenues.
Read more
Teva's Swiss anti-nausea drug patent suit reaches U.S. Supreme Court. Teva was sued in 2011 by Swiss drug company Helsinn Healthcare over its intention to develop a generic version of Helsin's drug, which it released in the U.S. in March 2018.
Read more
Content distribution company Outbrain appoints new vice president. Prior to joining Outbrain, Craig Hughes was senior vice president of global business development at Unruly Group, a social video advertising company acquired by Rupert Murdoch's News Corp. for $176 million in 2015.
Read more
News Briefs
Textile technology startup Twine Solutions raises $22 million.
Read more
PepsiCo completes SodaStream acquisition.
Read more
Mobile monetization startup Soomla raises $2.6 million.
Read more